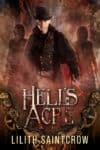 I'm settling down to my blog post a little late this Thursday, mostly because I've been fighting with print distributors. Well, fighting is a strong word. I'm simply being very clear about expectations and deadlines.
*sips tea*
I tested a new-ish print distro with four books, and have seen a 75% failure rate. Certainly not ideal by any measure, and let's not even talk about people not bothering to read an email before they cut-and-paste a reply. To be fair, I know the reps are quite probably overworked–which is why I try to make it easy, giving all details for maximum clarity in every. single. email.
To be even more fair, the matter has finally escalated to the level where something has a chance of actually getting done, so that's a good thing.
Had I been in publishing less than almost two decades (my, how the time has flown) I would probably just have given up on all four editions, but I know when to be stubborn by now. I have been treading the edge of Karen as this thing wears on, because by the gods, I will not be undone by a bureaucracy.
I will say the irritation was great fuel for the morning's run. I woke up with grandson's "Oh No!!!" in my head at high volume, so that was on repeat for a nontrivial number of kilometers. I'm still a bit sore (and dotted with various bruises) from the swift and complete moving job we did for a friend Tuesday, too. Stretching, a tonne of hydration, and going to bed early tonight will probably make me right as rain.
Today I get a burrito for lunch, some fun subscription stuff drops for my beloveds, the dogs are relatively calm, and while very warm the weather is not overly awful. And I get to throw both a heroine and her suitor into a Very Dangerous Situation, with bullets flying.
It feels good to be writing again, instead of dealing with distribution hassles, formatting, edits, or proofs. Just scratching the itch for twenty minutes or so on a day when I'm exhausted juggling other chainsaws is not optional. For the rest of this month I'm back to producing new words instead of dealing with the ones I've already written, and it is marvelous.
I wish you a lovely Thursday, my friends. May we all get a chance to do something we like today, instead of enduring what we must.
Over and out.