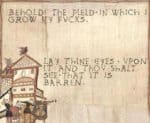 I have coffee, and it's finally not feeling like a Monday anymore. Small mercies, silver linings, and all that.
It struck me this morning, waiting for Horace de Brassiere (my espresso machine, who is a cousin to Phillip, the great French patent thief) to finish his burbling, that if I had to be dealing with these kinds of historical events, I am probably at the best age for it. I'm 45 this year, and all my fucks are gone. As a matter of fact, the number of fucks given in a room automatically drops when I walk in. Not only do I not have any more fucks to give, but I am operating on a fucks-to-give deficit and will automatically cancel out a few when I get within a certain radius.
It's a nice feeling.
I've had a couple questions pop up from more than one person lately, so let me answer them here.
---
Is there a sequel to The Marked?
I do have the sequel in my head. What I don't have, sadly, is the time, energy, and cash to write it just at the moment, especially since the e-pirates are getting kind of active lately. If I do manage to finish Oracle–the sequel's working title–I'll let you guys know, I promise. As it is, Jude and Press's first adventure does end at a natural resting-point if it has to be a standalone.
Is there a site or format that provides you the best return on reader purchases? Does purchasing through the Gumroad store net you more proceeds than from Amazon, for example?
I answered this in comments, but I'll answer it here too: The short answer is, it honestly doesn't matter. Amazon, for example, tries relentlessly not to pay writers, but the discoverability and the bumping of their algorithm with sales of a particular book can aggregate over time. Other large distro platforms have their pluses and minuses, and direct selling like Gumroad does hand over a larger share of the proceeds but has a tightly scoped-in audience so not a lot of people end up buying there.
The best answer, from a writer's point of view, is that it doesn't matter where you bought the book but THAT you bought/checked out the book–torrenting and pirating doesn't count.
Another thing that's really helpful is rating/reviewing the book, wherever you bought it. Algorithms tend to bump rated/reviewed books more, so that does good things for a writer's backlist.
TL;DR: It doesn't matter, it's all about what's more convenient for the Reader.
What's happening with The Highlands War?
A lot of people are writing me about Steelflower lately. This remains my most-stolen series; it's difficult to write against that current. If you wish I'd write more of Kaia's adventures, and more quickly, the reason I can't is because people keep torrenting/pirating/stealing them. It's not a compliment, it's a theft, and it feels so much like a violation I have trouble going back to the books even if I had the time and income to write them.
That said, I am considering writing The Highlands War as a serial once Hell's Acre is finished. We're at the start of Season One of Hell's Acre, and there are two seasons planned–so that will take a while, and by the time it's over I'll see if people have stopped stealing Kaia's books. If they have, I'll probably be able to use the serial slot to at least bring the adventures of Steelflower and the Gang in the North to their conclusion.
I originally planned another, subsequent trilogy dealing with Kaia and Darik's return to G'maihallan, but that's a lot of epic fantasy to write for little-to-no return and a bunch of people stealing it in the bargain.
I know most of you reading this will say, "But I paid for my Kaia books!" And if you did I am very glad and grateful; you (and Skyla Dawn Cameron) are the reason why Steelflower at Sea and Steelflower in Snow are published at all. I thank you kindly, and I'm very sorry other people are behaving so badly. I wish they weren't.
---
I've been getting some other questions (more like comments, alas) in the mailbag (and other places) lately, but these are the most common. And now that I've finished absorbing coffee, some brekkie is called for before the dogs drag me around the block.
Boxnoggin in particular is in fine form today–he's not called Baron von Titzpunch for nothing, the dog outright demanded snuggles this morning. Miss B, of course, has her rigid schedule to adhere to, but she also plundered his breakfast bowl this morning since there was bacon grease and the Baron wasn't quite off the mark quick enough.
Never a dull moment chez Saintcrow, alas and hallelujah. At least the week of Mondays seems over, and the weather is holding.
It's gonna have to be enough.