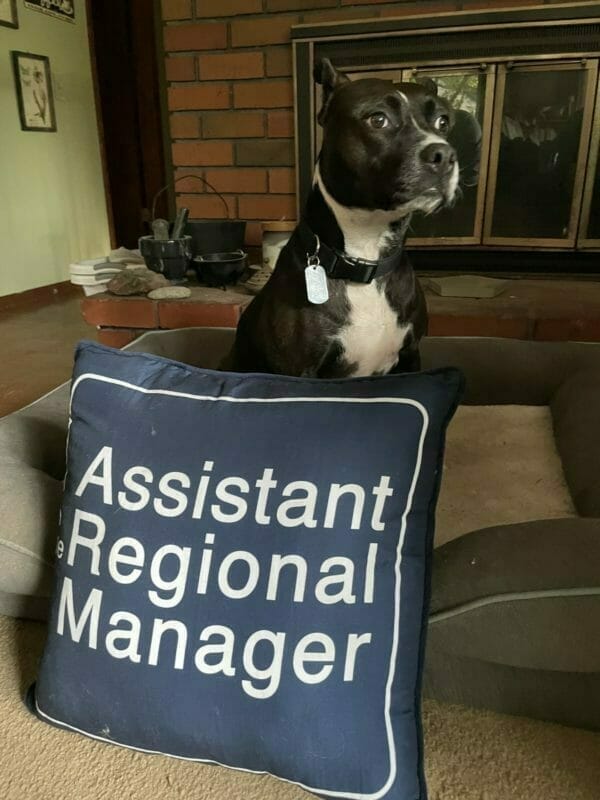 ---
So my daughter is a big Office fan, and got me to watch several seasons. My favorite scene is Dwight finding Pam crying in the stairwell and immediately puffing up to shank whoever hurt her; my feelings on any fictional character have rarely taken such a complete 180 as they did in those few moments of screen time.
Before, Dwight irritated the crap out of me. After, I was ready to pick up a baseball bat and follow him into battle.
Anyway, the Princess brought home some hilarious themed pillows during lockdown, and this was one of them. We can't decide if it's more or less funny that the "to the" is hidden. Doesn't Boxnoggin look proud of his new title?
Actually, he's a little put out, because he knows he's not supposed to eat pillows and this one was deliberately set near him for a whole thirty seconds. It was whisked away once she got the shot; Boxnoggin was petted and made much of, told he was a good boy for refraining to savage the poor pillow.
Progress, right?
It's a Friday that still feels like a Monday. I'm going to ask the local Assistant (to the) Regional Manager if we can just knock off early today.
I mean, look at him. Do you think he'll disagree?