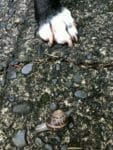 Last week was full of Mondays. Every damn day felt like one.
Consequently, I have made the executive decision that this week, I am taking Monday half-off. I'll get in a chapter of Hell's Acre and maybe some line edits today, but I'm knocking off early and not going to spend eighteen hours wrestling with print distro problems.
I should probably just open my own publishing house. You know the old joke–the easy way to make a million dollars in publishing is to spend two million.
Still, I'm practically a cottage industry. I work quickly; I can't help it. The stories, like the spice, must flow.
I did get HOOD's Season Three all prepped for distribution. It lands September 21; preorders are live everywhere except Amazon, which doesn't let you do ebook preorders if you're not using KDP. (They really, REALLY want writers locked into their proprietary systems, but I am unwilling.) Which is why I also stock .mobi versions in my Gumroad store. The omnibus–all three seasons of HOOD in one nifty volume–will probably be out December-ish, depending on the cover artist's schedule.
And that's one series put to bed. Whew. Writing the bulk of Season Three during last year was…not unpleasant, because work kept me from walking into the sea. But still, I had a lot of difficulty on the editing and proofing passes because certain passages reminded me very strongly of 2020's weeds and thickets.
Now that is a year I would not care to revisit. 2021's got some lulus, yes, but on the whole I feel a lot better about it than I did about the four preceding years. I'm sure I'm just being set up for some scorching disappointment, true, but in the meantime I'm going to take a damn breath.
Not to mention walk the dogs. They don't care what we've named the days of the week, all they know is that brekkie has been inspected (not eaten, except for the bacon grease) and Mum has finished her coffee, therefore it's time to drag the biped around the block. I may even need a jacket today; it's a lovely temperature.
I suppose it's time to dance out the door. Miss B is under my desk, balefully tapping me with her nose every once in a while. (Once a herding dog, always a herding dog.) Boxnoggin is probably on my unmade bed since I left my bedroom door open, belly-up and snoring but with an ear cocked lest I somehow attempt to leave the house without him. Any move I make down the hall will precipitate a mad scramble on his part, I'm sure.
I should tell you guys about the Fork-Tailed Squirrel, but that can wait for another post. Monday awaits, and needs to be driven back into its cave.
See you around, beloveds.