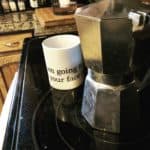 This morning's mood is best summed up by, "give me the coffee and nobody gets hurt."
Not that I'd actually hurt anyone (without severe provocation) but the threat has a few salutary effects. One takes what one can get.
The weather watchers say we're going to have another heat wave–not as bad as the recent dome, but it won't cool off at night like it usually does, which is a recipe for disaster in this part of the country. Very few people have air conditioning and we're used to opening up windows overnight to keep the houses livable. The cumulative effect of hot days and nights bearing no relief stresses the very young, the very old, and the chronically ill.
I'm upping my running mileage too, so this will mean getting out the door early, for whatever variety of cool can be found. I'd forgotten how an alteration of the running schedule makes the entire body feel different–my legs feel a lot longer, for example. And different parts of my arms ache because running is a whole-body effort and if your trotters are tired concentrating on your arms can provide the last bit of help needed to keep you going.
I suppose I've been running for a bit now, and it's completely reshaped my body. I'm pretty sure even my bones bear the marks, with muscle attachments pulling at them in specific ways while I jog along. A lot of people don't realize just how dynamic one's bones are; they respond like muscles do, changing shape and reinforcing areas of high stress.
Pretty sure mine are mad at me right now, but it can't be helped.
I feel at once taller and more compact when my mileage goes up, especially when intervals are added to the mix. Running also requires a very particular brand of kinesthetic attention, like dance, combat, or climbing–knowing where one is in time and space, thinking a few moves ahead while staying loose and ready for surprises.
Maybe that's why I like all those things; they make my brain stop eating itself for short periods because the whole mass of walnut-folded grey matter is busy making sure I don't accidentally dart in front of a bus or tumble off the damn wall.
If I fall in front of a bus, I want it to be deliberate, you see.
Someone's started messing with a leaf blower, which means the neighborhood is officially awake and the day has begun. The dogs got a handful apiece of yesterday's party Cheetos in their respective bowls; the Prince had his vaccinated friends over to play video games, eat pizza, and watch Miyazaki movies. It was a roaring success, though a little strange to have people I didn't give birth to in the house again.
And with that, it's time to walk said shaggy beasts, then get out for that increased mileage. There's Hell's Acre to write today–the heroine is about to pay a call which will alter her entire life, though she doesn't know it yet–and maybe a little werewolf erotica, since I'm done with that difficult revision.
My reward structure is all messed up. "You did good! Here, have some anxiety-thumping caffeine, go out and run until you think you might throw up, and write some monsterfucking–you've earned it!"
What's even funnier is that I choose those rewards. I don't know whether it's being a writer or just being wired strangely. Ah well, I've been a weirdo for 40+ years, there's no point in stopping now.
At least by the time I find out where the leaf blower noise is coming from the coffee will have sunk in, providing its tranquilizing effect. Small mercies, the only kind we ever get around here.
Happy Thursday, my beloveds.