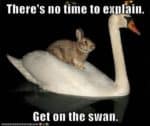 A lovely cool grey morning, though without a single spatter of rain, has me feeling almost myself again. Almost, just not exactly quite. I managed to get out the door for the morning dog walkies a few minutes early, which meant less traffic on the sidewalks; the day's run was accomplished at a slightly lower speed than usual since I'm bulking mileage. Come Friday or so I'll do some intervals, then after a few days' worth of rest my speed should start to creep up while my distance remains steady.
Or at least, that's the plan.
I did not get a heroine involved in a stabbing yesterday, though it wasn't for lack of trying. I think the stabbing has to come today, in the hero's POV. Serves him right if he gets a puncture; he's been getting a bit arrogant lately and needs someone to take him down a peg or two. This being Hell's Acre, of course, he'll get it in the most mannerly way possible from our dear heroine.
I mean, she'll stab, but she won't be rude.
Other than that, the day is set aside for revisions on Sons of Ymre. There's a lot more horror than romance in that book, and the Lovecraft and King in Yellow references fall fast and thick. My poor editor. *evil chuckle*
I've queued up a lot of Miles Davis for the afternoon's work, and am attempting to use another jolt of coffee to clear the mud out of my head. I'd forgotten how absentminded upping my running mileage makes me for the first couple days. On the plus side, I'll sleep well tonight, which is a blessing all its own.
The minus is that my usual work pace has dropped to what feels like a snail-crawl. I know it's not, I know I'm in a good spot and can afford a few days' worth of not-quite-top-speed, but still. It irks me to be operating at less than full capacity.
Some of my slowness could be the absence of lunch, a problem easily rectified even if the dogs are going to be underfoot as soon as I twitch to rise from my office chair. Since I'm contemplating midday bruschetta, their cheese-sense is no doubt tingling. I swear, the instant any human in the house even thinks about thickened milk product, both dogs perk up and scuttle forth to beg for treats with single-minded intensity.
…I just glanced at the office door. Miss B is sitting, ears up and eyes bright, waiting. Every inch of her is expectant.
I suppose I can't disappoint the poor elderly dog–and Boxnoggin is coming down the hall, his nails clicking on hardwood. Time to wade through canine excitement in the direction of the kitchen and hope the kids left me some fresh mozzarella.