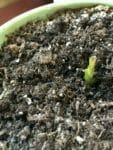 I'm not supposed to work today.
I was complaining to the kids about how publishing takes several hiatuses during the year, and they put their collective foot down. Apparently a holiday will make me more effective, more efficient, and less cranky–or so they say–so I've been banned from working since Friday. The ban ends tomorrow, and I'm not even allowed to spend much time in my office because work is seductive and I apparently cannot be trusted.
A lot of gardening has gotten done, and I finally caught up on the hoovering. Also, I woke up with Melanie Martinez's Play Date inside my skull at the usual high volume. The radio station in my skull is combing the aether, I suppose; I've heard the song a total of four times in my life but now it's burrowed in.
The blood lily has also finished one of its dormant periods and sent up quite the fan of leaves. The giant castor and angel trumpet are both doing well, and I think sinking the Very Large African Violet into a fresh pot might have been the right move. We'll see if it survives.
Other than that, all the peppers are in garden boxes and the rest of the seedlings in the ground, except for some mugwort. I went a little crazy with the artemisia, perhaps. I know it's a quasi-weed but I want to make sure some actually takes root, dammit. And some aconite; it's slow to take off.
That's all the news from a holiday morn, unless you want to know that I *whispers* just filled out a cover art questionnaire for Moon's Knight. Technically, that's not work, right?
Right?
*whistles innocently, strolling back to vacation*