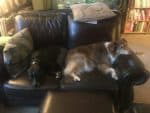 Normally I do the Morning Walk Report on my Masto instance…but today's was just a little weirder than usual.
It wasn't the weather, though yesterday's heat was only a prelude. They're saying over 100F sometime this weekend; I'm sure that will be fun. But this morning there was a little coolth, and Sandra came by the birdbath as usual so I knew Carl and Jerry were okay.
Anyway, I strapped the dogs in and got us all out the door, thank heaven.
It wasn't until we were halfway down the block, a bee crawling on my shoulder and Miss B very interested in some lithadora, that I realized Boxnoggin wasn't prancing just because he was happy to be out of the house. No, he was dancing in place for an entirely different reason.
If it wasn't Carl it was his evil twin, standing in a driveway and eyeing us sidelong. I caught a wicked gleam in his corvid eye while Boxnoggin strained at his harness, just longing to get across the street and Make A New Friend.
Given that Box's idea of "friendship" with smaller creatures is "shake it like a Polaroid until the neck snaps, then look mournfully at the corpse wondering where your friend went", I felt it was unwise (to say the least) to let him seek a closer acquaintance with Carl.
Besides, Carl fights dirty. I should know.
I don't know if it's normal behavior for a crow to follow a wild-haired writer and her two canine companions around the block for walkies. But every time I looked up, Carl–or his evil twin, I am certainly not ruling that out–was perched nearby, taking off with a snap-flutter as the dogs finished their sniff stops and moved on. I'm not sure if he was herding us, just curious, or doing recon for a sudden attack.
What I do know is that Boxnoggin was very aware we were being watched, and seeing him alternate between fierce "it's on the ground, let me go SHAKE IT" and coy "ohai, you are watching me from above, let me display coquettish prancing to entice you closer" was not the most amusing thing I've ever seen–but it was close.
That was how I came to be standing on the sidewalk audibly scolding a crow for taunting my poor dog. "He's not bright, Carl," I informed a bird slightly bigger than Boxnoggin's head. "This is beneath you, frankly, and I'm disappointed in your behavior."
Carl cawed a couple times in reply, clearly unwilling to give up the game.
Once we got to the backyard and I let the dogs out of their harnesses, Carl settled in the cedars, watching while I herded them back into air-conditioned calm. He was gone when I came back out, hair braided and the rest of me slathered with yet more sunscreen for the morning run.
I don't even know.
As for the run, I sweated sunscreen into my eyes so that was fun. Also, the bees are getting to be a nuisance. I love them, I truly do, but trying to crawl into my nose is not the thing. I suspect the only reason they didn't go for my ears was the fact those are always blocked with music-delivery pods, and my eyes were left alone because I was blinking furiously trying to get away from the stinging.
They're leaving my mouth alone, at least for now. Small mercies. I was also afraid I'd crush one settling in my elbow as I ran, but I guess it just wanted a drink? I'm happy to help but dear gods, the little pollinating bastards seem to lack all sense of self-preservation.
I'm hoping Carl's accompaniment was merely curiosity. If he's planning hijinks, I may have to stroll the dogs while armed. I'm sure the neighbors won't wonder at me walking along, two dogs strapped to my waist, a golf club over my shoulders.
It might even add something to the morning…