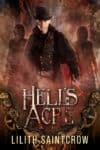 They're saying 95F today. I've already closed the house and turned the AC on. The ceiling fan in the stairwell is going too. Such as it is, we've got some remedy against the heat.
In plenty of the country, it wouldn't be considered bad weather. But here, we are pale temperate mushrooms, and this dries us out. Even the moss in our crevices is cracking. (Hyperbole? Yes, but only a little.)
Of course it means I'll be able to crouch in my darkened office and work today, since the holiday weekend is over. I managed double wordcount on Cold North yesterday, but only a pittance on Hell's Acre. Which isn't bad (just a reminder, you can read the first few chapters of the serial for free) and today I get to write a chapter where I Tuckerize some of my beloved subscribers. It will probably end in their eponymous characters' gruesome deaths (Avery has a temper, and quite a bit of training in mayhem). I was kind of unprepared for how many people wanted to, erm, risk a violent end in the serial.
Sometimes the deaths are pretty neat–a certain character in Roadtrip Z got to be an end-of-movie hero, bit by a zombie and saving one last bullet in the chamber for himself. (Hullo, MM!) And since I'm writing a combat scene today I have a list of names to use now, and I think at least one is going to switch allegiances mid-fight.
In other news, I got a very nice letter from Reader B. L., who liked Steelflower very much and entreated me to continue the series. I do go back and look at The Highlands War from time to time. If I can open the file without stress nausea burning a hole in my gut I'll put it on the writing docket.
Unfortunately, it remains one of my most-pirated series. The level of theft means I literally can't afford to work on it, and the emotional cost is super high too.
But again, if I can get to the point where I can open the Highlands file without the stress nausea, I'll consider it, because I really do need that arc finished. Originally it was to be a trilogy–the first book where everyone meets, the Skaialan book, and then Kaia and Darik's return to G'maihallan–incidentally, that last book was to explain D'ri's scar, and tie a bunch of other narrative threads pretty neatly.
Best-laid plans and all.
In any case, I've got to get the dogs walked and my own corpse through a run before the heat mounts to an unlivable degree, so I'm out the door as soon as the last bit of coffee is swilled. Happy Pride Month, everyone, and I hope your Tuesday goes smooth as silk.
If it doesn't, we can get out the machetes and the RPGs, and teach it not to mess with us.
Over and out…