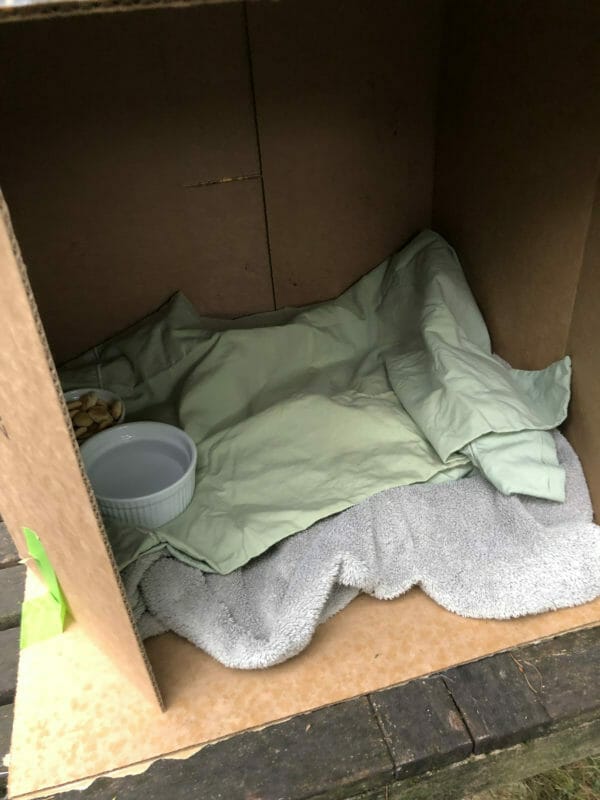 ---
So this, my friends, was the Asshole Crow Condo that Jerry didn't bother using. We left it out all night and I finally broke it down the next afternoon. In the rain. Cursing Jerry all the while, even though I was super glad (for my daughter's sake) the raccoons hadn't found and trashed it.
For the curious, the Original Jerry Watch 2021 Situation Thread is here, the update is here, and the finale–such as it is–here. It took a week for Jerry to show back up; I'm pretty convinced either his tailfeathers or some version of corvid drunkenness (there are compost heaps with no shortage of fermented stuff everywhere in the neighborhood) was to blame for the entire incident. He could have been a fledgeling, true, but he was pretty big–as one can see by the size of the box we chose for his (supposed) recovery.
Poor Jerry. I won't deny I was bloody well relieved to see him again. He does seem to be having some trouble with flying still, but Carl and Sandra are looking after him and there's plenty of food in the backyard.
He seems to have learned his lesson about taunting Boxnoggin, too. And I perform a Jerry Check upon the yard before letting the dogs out. Miss B doesn't really care–the most she'll do is eye the smear she can only indistinctly see but can smell just fine and wonder if she should be herding it but it doesn't smell like a sheep, so maybe she shouldn't? But Box is very committed to Backyard Safety, by which he means yelling his fool head off at everything that moves before taking off at top speed to catch it.
Me? I'm just here to witness the hijinks, apparently.
Have a good weekend, my beloveds.