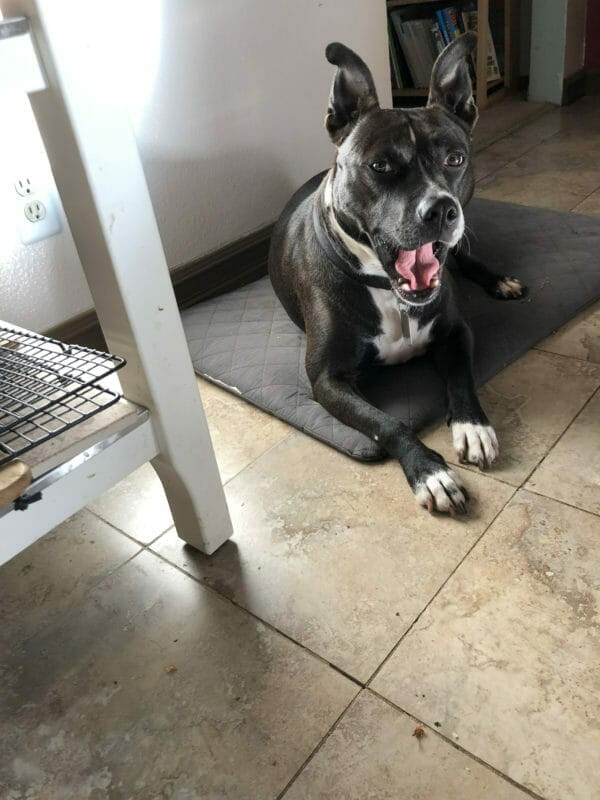 ---
This is the face of a dog who happened across a feral rabbit in our backyard this morning.
I knew it was only a matter of time before the rabbits got up the hill. Their range has been spreading, and we had a comparatively mild winter. They started out on the other side of a major concrete artery, then somehow got across downhill near a watercourse, and it's been fascinating to see them creep up the hill when I take the dogs on morning walkies. Nonscientific and completely anecdotal field work, you see.
Anyway, uncaffeinated and with my shoes untied, I let the dogs out for their morning evacuations and prancing. It was early enough I didn't think squirrels were a real risk.
Imagine my surprise when Boxnoggin let out a yelp of excited, pained disbelief and tore across the yard. Imagine my further surprise when I saw Monsieur Lapin (for some reason I always address rabbits in French) hightailing it (literally) across said yard from north to south (south being downhill and, of course, the direction he'd more than likely come from).
You can further imagine my despair when I saw Boxnoggin tearing after him at a speed that seemed unlikely to catch but perfectly likely to overshoot a mark or two and consequently paste him onto the fence. While I could tell there was no danger of a bunny breakfast, Boxnoggin seemed very likely indeed to either hit the fence or attempt to leap the gate.
Upon both those paths lies danger.
I'm not too worried ol' Boxnoggin will clear the fence, mind you. He has gained a reasonable amount of heft and dignity (such as it is) with the fullness of time and, alas, cannot catch the kind of air he used to. But doing himself some injury by applying himself to said fence at high velocity is entirely possible, and lo I let out a, "WHAT THE FUCK STOP FOR GOD'S SAKE YOU IDIOT," that shattered the morning quiet.
Of course, he paid no attention. Every fuse inside his doggy skull was blown. The terrier part of his genetic inheritance had burst from confinement like a werewolf's hunting frenzy, and the tiny cottontail bobbing before him was the sum of all desires.
Fortunately (for Monsieur Lapin) or unfortunately (for poor Boxnoggin), the rabbit had obeyed the number-one rule of reconnaissance: Always know your escape route. (Insert obligatory Princess Bride reference here.) Monsieur was vanishée, and Boxnoggin was désolée. (I had a whole disparue joke here, but it didn't quite have the ring.)
Ol' Box did a full circuit of the yard, nose down, while I pressed my hand over my pounding heart and discovered I did not need caffeine to wake up, terror works just fine. Finally, when he had verified that no further rodent snacks were lingering in the ferns, under the redbud tree, among the roses, in the vegetable garden, behind the shed, under the deck, in the shed, under the red wagon, or in any other place belonging to the yard, he consented to come inside and eat his (non-bunny) brekkie.
Miss B watched all this go down with mild interest, being occupied with peeing the whole time. In her younger days she would have added to the circus, but she had a full bladder and contented herself with a single burp-bark of supervision. "YOU'RE NOT GONNA CATCH IT, DUMBASS. MUM, WHERE'S MY KIBBLE?"
So, my Friday started with a dose of exhilarating fear. I hope yours began in a more tranquil fashion. Now that the rabbits have found my yard, of course, no vegetable is safe, and Boxnoggin is going to be searching for more carrot-chewing maniacs as a matter of course every time he's let outside.
This…will not end well, I'm sure. But it'll be hilarious.
Have a good weekend!