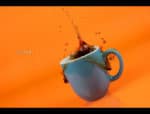 It's raining, and I woke up with Rain's Sad Tango playing in my head. Which isn't bad on either count. I get to run while water is falling from the sky, and there's also a catchy groove to do it to.
I meant to take this week as a vacation, at least from serial writing. Unfortunately life has other ideas. Cold North is still going great guns; the elementalist has left that world's variation on Nargothrond and is heading for a hill topped with red foliage. (Turin Turambar fans are going to get a kick out of this part of the tale.) I'm also getting plenty of progress in on Hell's Acre, which has a scaffolding somewhat resembling an outline–though anything approaching an outline gets thrown out about two-thirds of the way through any work.
I just can't stick to directions when it comes to a story. It has to take its own organic shape, and though I can often predict said shape, the execution is always much different than the projection.
…I just took the first gulp of today's coffee, and my gods is it ever welcome.
I'm having to switch back to tea in the afternoons, since sleeping is becoming difficult again. On the one hand, I could just get up and work when insomnia strikes. On the other, I'm getting older (surprise, surprise) and the very thought of pulling all-nighters the way I used to makes me even more tired. I might as well give my body all the help I can. Besides, tea is stuffed full of anti-depressive chemicals, and that's always a bonus.
I'm also ready to open up my Discord server for a new round of members, so come on in, the water's fine! The invite link will last for a week, unless we get an influx of bad actors. (Which sometimes happens, this being the internet and all.) Patreon and Gumroad folks get special access on the server, and I'm kicking around the idea of doing some voice chats with subscribers–an AMA or two sounds like a good time, especially with a cuppa. The server has a living room, a place to discuss the books of Yours Truly, a place to discuss other authors' books, a hellhole where politics are discussed, and more.
I'm slowly working my way through coffee. It's a nice quiet grey morning, and after listening to Sad Tango on repeat I figure I'll shift to the Kingdom of Heaven soundtrack, look over the day's work, and finish said java before taking the dogs on walkies. Boxnoggin will be extremely put out that it's damp, but B will be just the same–she's all-weather, all the time.
OH! I almost forgot. The Princess informed me yesterday that the Yankee Squirrel Flipper is doing its duty, and a squirrel has been flung at least once into the Venerable Fir. Sadly, I did not get to witness the occasion, but I have to admit to a bit of evil laughter, especially since the damn arboreal rodents have been digging up my seedling trays to bury their bloody peanuts.
Yes, someone in the neighborhood is still feeding them. I don't even know.
That's the news that's fit to print, I suppose. There are rumbles in the distance, both concerning Cold North and Moon's Knight, but nothing definitive yet. And come June 1, not only will Hell's Acre be live, but I'll have to shift engines to do revisions on Sons of Ymre, which should be out later this year (but will probably be retitled, so stay tuned).
My goodness, that's a lot. I started this post thinking there was very little if any news, but apparently I was wrong. It's a good thing I don't mind being wrong. I even enjoy it, in some cases.
This vacation is turning out busier than many regular work weeks, but that's my own fault…
…as usual. Onwards, upwards, and inwards to Thursday, beloveds.