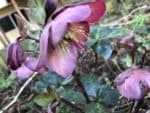 So far Monday hasn't been its usual sweet self, but then again, neither have I. At least the hellebores are still blooming.
Half the weekend was spent working despite my best efforts; I meant to take it completely off and get a bunch of chores done but 4k of Cold North fell out of my head. One of the elves brought the heroine a gift with teeth, and I just had to see how that worked out.
Sometimes, when a story heats up, one's required to put everything else aside and get it out of one's aching head. Come Sunday, though, I had to get some damn chores out of the way.
So I did, and read a lot of manga. I finished Amu Meguro's Honey So Sweet series, which was a lovely palate cleanser; then I started on the kids' Rurouni Kenshin collection. For years, I used to take the kids to Borders (now closed, sadly) and they got one or two manga every time; as a result, they've quite the mountain of right-to-left reading. Years of the kids excitedly telling me everything about the stories at the dinner table mean it's like meeting old friends. They can talk for hours about plot points, ins and outs, and character motivations; I love listening.
I like manga a bit more than anime; I've always liked reading more than just about anything else. The kids are fond of Yu Yu Hakusho in anime form, and if I ever got around to watching it I'm sure I'd recognize everyone just from the descriptions I've gotten during dinner.
As a result of dipping my toe into the manga waters again, the Princess is reading Hellsing once more, and the Prince is watching a new anime he's going to give us all a rundown of at the dinner table. I'm sure the kids will argue about the difference between Hellsing's manga and anime form, and I will once again mutter about Vampire Hunter D.
Goodness, that takes me back. Wow.
In any case, I also got a chunk of chorin' done, including sweeping the garage and taking a swipe at the car upholstery. Miss B got a bath once the Princess got home–she was furious, of course. The funniest thing about bath days is about an hour after the washing is done, when Miss B is still damp but doesn't remember quite why, she only suspects something dreadful happened and is determined to express her displeasure through interpretive dance around my feet.
She gets many a pet, pat, and treat to make up for the horror of being bathed, poor thing. And of course Boxnoggin needs a brushing (his skin gets irritated with too much bathing; he is a very slick-coated fellow) and many a pet, pat, and treat as well. He loves bath days–unless it's time for him to get in the tub.
That was the weekend; now it's Monday again, and neither the day nor I are quite ready for it. I'll be all right once I have a run under my belt and a few moments to fall into a story. Not quite sure what's going to happen in Cold North today, but I know precisely what Hell's Acre needs next, and that's a very tired heroine learning the rooftops of an alt-historical Victorian London.
She might even make a few friends, or at the very least, engage in combat with a very surprised hero.
And of course when I get to bed tonight there's a nice big omnibus of Rurouni Kenshin to make my way through. It's something to look forward to; I've just got to survive Monday's attempts to shake me from its back. And I should water those hellebores.
I think today's run will sink my teeth firmly into the day's ruff, and once that happens I'm impossible to get rid of.
Off I go, then. Wish me luck.