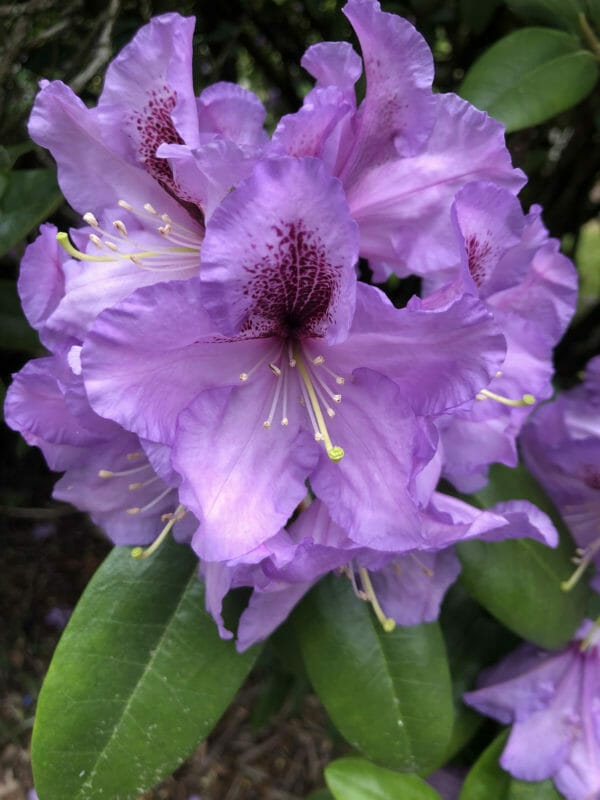 ---
In late spring, there's an explosion of color as the rhododendrons and azaleas flower. It's short indeed, but very vivid, and I like this particular bush. It's friendly all year round, being on our usual morning canine ramble route. The lithadora under it is apparently the source of many fine smells, so both Boxnoggin and Miss B halt there for a good long while.
While they busily untangle the day's news, I often exchange pleasantries with this fine lady. She's far taller than me, but very gracious and willing to speak at length about the weather. The dry spring is nice, most of the plants are saying, because it's cut down on slug and snail production. Which means more vegetation.
I call this particular flower "almost royal" because it's purple and quite majestic in its own way. There was an azalea I ran past yesterday positively loaded with white blossom, but I didn't get to slow down long enough for a picture. That's all right; this is just as good.
Here's hoping for a pleasant weekend, my beloveds. I've lost almost a week to the immense psychological relief of being vaccinated; I need to get back to work in the worst way. But there's always time to walk the dogs, and have a little small talk with an almost-royal almost-tree.
See you next Monday…