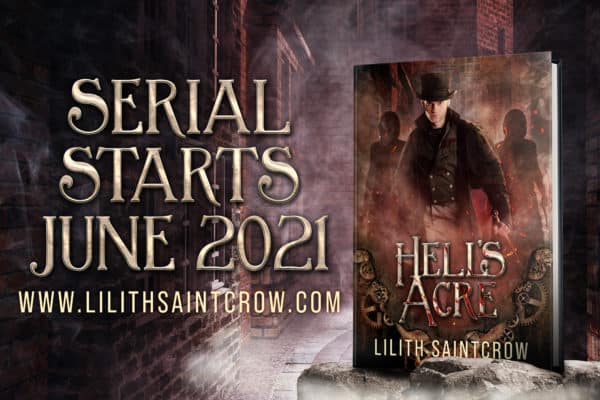 ---
I usually do a Friday photo, but this is a special week. I just got the covers for the next serial after HOOD, along with this shiny graphic to announce its advent. Pretty neat, right? The covers are from the inimitable IndigoChick Designs; I love Skyla's work.
HOOD1 will finish in May, and subscribers in the relevant tiers will get the unedited and edited ebooks of Season Three for free2. I'll take the last week of May off, then Nest Egg and Serial Time subscribers will be able to automagically dive right into the first season of Hell's Acre starting in June.
I describe Hell's Acre as "alt-Victorian Assassin's Creed: Syndicate mixed with The Da Vinci Code in a world where the Roman Empire didn't fall to Christianity or the Vandals", so there's a whole lot I'm excited to play with. Fans of Bannon & Clare will like the return to a London of steampunk and grime, though there will be no sorceresses3.
Hell's Acre should run in two seasons; I have (for once) something approaching an outline. Of course the tale will grow in the telling, as it always does, and I'm already finding out things I didn't know about the characters. It's nice to be in the joy-of-discovery phase instead of the revision phase.
And with that I'm off to spend a Friday writing, beloveds. I'm very excited for what the next few months will bring, which is a super nice change from last year. I hope you have a fine weekend; I intend to spend mine writing and watering, since we're having a sunny spring indeed.