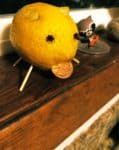 I'm pretty sure it's not the plague.
Of course when I start watching a series of lectures on the Black Plague1 and reading John Kelly's The Great Mortality2, the Prince develops a deep cough and I'm afflicted with postnasal drip and a fatigue so deep I feel like I'm under a mile or two of clear water. Of course, I don't know why I expected anything different. We're both coughing in spates, though we can both smell so it's probably not the current plague.
Though it would be ironic, don't you think? So close to vaccines being at least theoretically available. (The appointments to get them jammed into your arm are somewhat less than available; there's always a catch. Always.)
Work proceeds apace. Sending off the revision for Book 1 of Black God's Heart means now I can really get started on Book 2, swinging from one handhold to the next. The other spot in my working day is taken up with Hell's Acre, which is beginning to move into my skull and make itself very comfortable indeed. And I just saw cover drafts for it, which are going to be amazing.
While I'm juggling those two, Cold North will be a refuge, and a way to make them both behave. Either you tell me what happens next or I go to the Tolkien Viking werewolves is a helluva threat.3 It might even make the steampunk sit up and take notice.
Regardless of how exhausted I am, work needs to get done and dogs need to be walked. I'm only hoping for the luck to get through this, whatever it is, and have it not be plague. I'm hoping it's just the result of a pretty intense pollen season; anecdotal evidence has the cherry blossoms and forsythia filling the air with a vengeance this year. I'm somewhat at a loss to figure out how the illness found us in lockdown, but even with masks and the Prince's distance learning we still have some points of interaction with others, like the Princess's job and my own venturing out for things that can't be delivered.
All the same, we haven't had nearly the cold/flu season we're wonted to in this area, for which I can only thank the masks and hope they stay.
I can still smell coffee, and the Prince says he feels much better this morning. (Since he actually went to bed at a decent hour, but that's another story.) So maybe it's not quite as bad as I feared yesterday, but I'm still so tired. My eyelid isn't twitching, but even my hair feels exhausted at this point.
Here's to hope. I hate feeling it, since the last year and a half have been full of hope rising only to be kicked in the teeth. It just keeps coming back, whether I will or no.
And with that cheerful note, I'm off to let the dogs drag me around the block. Fortunately they know exactly where to go, and habit will keep them mostly behaving. Habit will also pull me through another day's work.
Suppose I'd best get started.