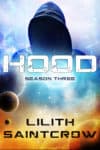 Hello again, beloveds. I took some time off after finishing an absolutely massive revision of The Bloody Throne1 and collapsing in a twitching pile of bare nerves.
It was nice to take a breath, even if every day of recovery irks me because it's not spent writing.
In any case, it's Thursday, I'm back at the wheel, and I'm excited because readers of my Robin Hood in Space serial get a scene that I've been building towards for the entire three seasons. I started deliberately seeding bits of a pretty big reveal back in Season One, and I've been waiting with varying levels of patience for us to get… here.
That's one of the nice things about serial writing. You know where everything's going ahead of time (mostly, I mean, as much as a writer ever does) and can see people discover the fun things almost in realtime. It also lets a writer practice highly contained narrative arcs within larger arcs, which is fun. Almost like juggling, I should think, though I don't know how to juggle.2
Anyway, I'm really pleased with HOOD. We're in the home stretch of the last season, so I'm about to start the process of revising, editing, and getting said season ready for publication.3 At the same time I have Book 2 of The Black God's Heart to write, so the Viking werewolves will have to take a backset for a while. And the old, cranky mercenary story will have to take an even further backseat. That's all right–I need to think more about the werewolves and the arc for a certain character in that trilogy, and the old, cranky mercenary's quite happy to be left in peace for a short while.
I've decided that the next serial will be Hell's Acre, so am prepping for that. I've wanted to write more alt-Victorian London for a while, since Bannon & Clare had to go on indefinite hiatus. And I'm going to have so much fun with rooftops, tea, dresses, manners deployed as weaponry, filth, and gaslights. There won't be magic, though, unless it's of a certain subtle type.
Anyway, the recent revision nearly broke me. Mostly, I suppose, because I finished writing the book in 2020 and that was uncomfortable. Reading what I wrote during some of the darker days of pandemic and ongoing slo-mo fascist coup caused deep, painful physical reactions during revision. Not only did I have the task of turning the last book of an epic fantasy trilogy into a 195k monster, trimming and tucking and making sure all the ends are nicely sorted, but I also had things I put off thinking about because everything was crisis, all demanding to be sorted, processed, and put in their proper place.
It was… uncomfortable.
But it's done now, I took a few days off to try and get my head patched together, and now it's straight onto into the next project. Keep swimming and always smile, that's the ticket.4
It's a sunny morning, in patches, which means the dogs will be beside themselves and other people will be out walking. The big yellow eye in the sky drives everyone around here mad. But at least once I finish the morning ramble and run I can hide in my office and get some work done.
That's the plan, of course. Yet Thursday has a strange look in its eye.
Here's hoping that's not a bad sign…