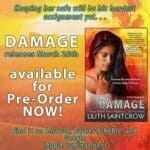 Tomorrow's a release day, and I am all at sixes and sevens. I have even snarled, "oh, for fuck's sake" thrice before coffee, which isn't quite a record but does herald an Interesting Morning.
The dogs are trotting up and down the hall, peeking in to see if I'm moving towards walkies yet. Soon Miss B will settle herself with a sigh in my office door, so I can't possibly leave without tripping over her. Boxnoggin, of course, is keeping watch out the front window. If a gust of wind comes down the street, he'll start screaming his fool head off, in the hope of drawing me out to see what the ruckus is, and while I'm out there of course he might as well ask about walkies.
There is an order and a ritual to mornings chez Saintcrow, and the canines don't want us to forget it.
I dreamed of snow, which isn't usual in spring. Snow, and wolves, and black pines under a white coat. The coffee is helping get the images stowed properly; what I really want to be doing is working on The Cold North. Instead, I've the revisions on Black God's Heart to finish, Book 2 of that to write, Hell's Acre to get underway (though the entire thing is outlined, as far as I ever outline anything) before I can even think of slotting the Tolkien Viking Werewolves into the merry-go-round.
Still, it's a good sign that a book's living in my head. The past year has been so strained, I sometimes thought I'd lose words altogether. I've only lost words once in my writing life–that was post-divorce, buying the house–and it's a terrible feeling. Even having a book up and die on me (like the Steelflower sequels, or Deadroad) isn't so painful.
I'm also moonlighting with The Innkeeper's War, which centers on a very cranky ex-mercenary who runs an inn, and one day her old adventuring friend the wizard shows up with a farm boy in tow. Then her inn gets burned down, and…but that's giving the game away. Maybe I'll write it, maybe I won't; for right now it's fun to have bits of different things for the machine inside my skull to chew on.
Keeps it from chewing on me. At least, that's the idea.
I suppose I'd best finish this coffee and stagger for the door, which will trigger a cascade of excitement from the canine component of the household. I was wise enough to get my shoes tied without their help this morning, though, which qualifies as a win.
At least, I'm going to treat it as such. And try not to think about a release day tomorrow. Fingers crossed, and all that.
See you 'round.