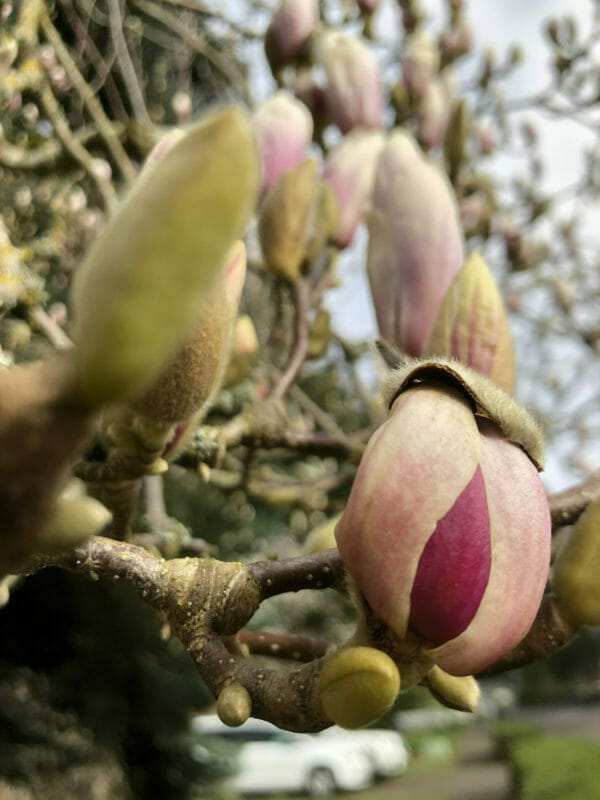 ---
One of the local magnolias has finally burst its fuzzy bounds, but the flowers aren't quite ready yet. We have a lot of these trees in the neighborhood. They're second in popularity only to roses; it seems like everyone gets a few of each to put in their yard. They're pretty for a few brief moments in spring, then there's some cleanup and they're nice trees with waxy green all summer, providing welcome shade.
The sheer amount of magnolias surprises a lot of transplants to the area. Everyone thinks they're deep-South trees, and I suppose they're probably happier there. But we have whole streets of them, and Portland just over the river is called the Rose City.
Of more interest to me each year are the plum trees. We had a giant one in the backyard of the old place, and every year when it bloomed I knew things were going to be okay. I'm forced to other plum-tree measures in this house. The cherries are all in bloom now, but the plums haven't quite gotten there yet.
I can wait a little longer. This week's been very stressful, and I haven't gotten the work I need to done. Maybe once the electrician leaves today1 I can take a deep breath.
At least, that's the hope. But in the meantime, I have the cherries and the magnolias to remind me that things may, indeed, work out. In fact, they've worked out so far.
I just hope the trend continues.