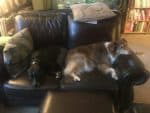 Between various bodily aches and canine upset tummies (Miss B is an Elderly Statesdog, and has Elderly Statesdog Problems) I was up and down all night. I really could have used some sleep after the weekend, but it wasn't meant to be. Groundhog Day is, after all, here.
Again.
I suppose I could have gotten up and done some knitting, but instead I lay in the dark and thought about things. The mind is always a sack of squirrels; it never, ever shuts off. I suppose some part of it is the genetic predisposition to anxiety triggered and reinforced by my upbringing. Consequently my main strategy to gain some rest is pushing myself to exhausted collapse, which isn't exactly optimal.
On the bright side, I got a character stabbed yesterday, and since there's no run today (the body simply won't have it, for once) I can work through the consequences for long uninterrupted hours. That's the plan, anyway. Anticipating uninterrupted work hours is a sure way to ruin and disappointment, but I can't help myself. I long for some time to simply roll around in a world of my own creation, escaping from this one.
It might not be healthy, but it's my job, and I like it. If I were caught in a time-loop I'd probably spend the day doing the same thing, for at least a century or so.
At least Miss B appears to have no lingering ill effects from the night's games. She is, in fact, her usual spiteful, jealous, stubborn, lovely self. I've rarely been so pleased to see her muscling Boxnoggin aside to get in on pets and treats, or patrolling the hall as she attempts, once more, to boss every human in the house into a single room where she can supervise us. We don't listen, of course, but without something to herd she is at somewhat of a loss, and Boxnoggin has decided he wants to be curled upon his fancy memory-foam bed in the living room until it's time for walkies.
Part of recovery is the spinning mental merry-go-round married to physical lethargy. The tension between the two is uncomfortable, to say the least. It's just one of those things one has to get through. The body will not let go until it's processed everything one pushed aside to survive an awful event, no matter how one ducks and dodges. Might as well sink into it, let it happen, deal, cry, scream, use the heavy bag, so forth, so on. Fighting the processing gets one nowhere.
I should say it's never gotten me anywhere. The only way out, as I tell the kids, is through. Trying to avoid processing just burns energy I could use for other things, like getting this damn zero finished, getting through the epic fantasy revisions (third and last of a triptych, my gods), and figuring out the next serial–which I think will be Hell's Acre, my alt-Victorian melding of Assassin's Creed: Syndicate and The Da Vinci Code, with plenty of other things (the Roman Empire never fell, for example) added in. I'm going back and forth between that and Mandeville & Starke; we'll see what I finally land on.
So if your brain feels like a bag of methed-out cyborg squirrels and your body feels like it's been beaten with a club, you might be simply processing the last few years' worth of constant trauma. I keep saying you're not alone because if I can help even one person through the woods, I consider it time and effort well spent. We must save each other; goodness knows nobody else is coming to.
Now Miss B is nudging at my knee, knowing from the way I'm breathing and shifting that I'm almost done typing, which means it's almost time for walkies. (Dogs, as well as human toddlers, are great believers in habit and ritual.) When I stand, the creak of my chair will alert Boxnoggin, and despite my aching body and exploding brain, I will smile because he will thunder down the hall full of excitement.
It's not a time loop, but it's a nice reminder nonetheless. It's Groundhog Day, again. I don't know how many more I'll have with Miss B, but I plan to use each one to the full.
Over and out.