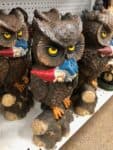 The instant the slush goes down to something below "fall and break my fool neck" proportions, the happier the dogs and I will both be. Boxnoggin is practically going mad without his rambles, and I'm not far behind.
It was a hard weekend, though peaceful because of the snow. Even with the sloppy melt going on, there are still areas of blank white, nice and crisp. Watching the powder fall was soothing; the ice storm a little less so. And I am, truth be told, slightly tired of my feet being numb, even in several layers of socks.
All told, though, I like the cold better than heat. One can always put on another layer or sip something warm. Sweating, though–that leads to chafing, and dear gods how I hate chafing.
I did get a lot of knitting done. The Princess's best friend and the Prince both have nice new chenille blankets, and I had eight skeins of a chunky wool blend that's mostly turned into scarves at this point. A great deal of the fun of knitting is giving things away.1
I finished Kieckhefer's Magic in the Middle Ages recently, which was an enjoyable read; next up is Kelleher's The Alliance of Pirates. I'm really looking forward to the latter, and maybe it will chase the Viking stuff out of my head so I can focus on the revisions that need to be done without a whole 'nother epic fantasy series trying to tear and claw its way out.
Some books are possessive. This one, however, needs to wait its turn. I'm pretty sure it's unsellable, which has never stopped me before but which does mean it has to fill in the gaps and cracks between other working projects. Of course nothing is as delicious as stolen time, and writing in said stolen time is the sweetest fruit there is.
And of course maybe I'll suddenly get the urge to write something about pirates. I hear Black Sails is really good, so I can possibly distract myself with that.2
It's hard for a lot of people right now. It's yet another six-month pandemic anniversary (some of us have been in lockdown for a whole goddamn year) and we could have been done with this before now if reasonable science-based adults had been in charge. A lot of us are grieving, or in holding patterns unable to grieve as well as cut off from necessary contact. And let's not even talk about the fascist coup and all that bullshit.
At least there are dogs, and the beauty of fresh snow. There's the secret stealthy sound of melt in the gutters, there are books and quiet and the fact that even if we're in lockdown, we're not precisely alone. Every day we've spent hunkered at home, every time we put on a mask, we're Doing A Good. We've lost a lot, yes. Who can tell how much we've saved because most of us have been doing what we should all through this?
The trouble with the thankless work of saving is that it's invisible.
It might seem like faint comfort, but I'll take it. The thing that's getting me through is caring for those I'm responsible for, and reminding myself that staying in and masking up are ways to show I care. I'm a natural hermit; the isolation doesn't wear on me. What does is the loneliness and sadness of those I care for.
I know it's rough. Most of us are quietly doing the best we can; sometimes that gets lost in the noise of the selfish. They are few indeed, but very loud. Of course the sonic assault is one of their primary weapons, to distract us from noticing how tiny and petty they are. Otherwise we might just stop letting their selfish selves ruin things for the rest of us.
Imagine that.
It's time to play with the canines a little, working off a bit of their energy until we can go rambling and let them stick their snoots in the usual spots. Then a shower, and to the grindstone of revisions. Getting books through publication is akin to cliff-climbing–one handhold at a time, exhale, use your legs, it's about the whole route not just the next hold.
Best to get started, then. Happy Tuesday, beloveds. Remember, we can't see what we've saved–but that doesn't mean it doesn't exist.