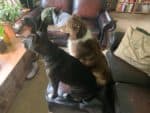 The morning has started with Boxnoggin jostling Miss B into punching Yours Truly in the mouth with her paw. Of course when I let out a short blurt of surprise and recoiled, both dogs realized their human was hurt in some fashion and scrambled to attempt aid. Which meant stepping upon my recumbent self, nose-punching me in the eye, scraping my shoulder with doggie nails, and then getting into a shoving match with each other. I had a swollen lip before I even rolled out of bed, and my eye is still watering.
This doesn't bode well for Thursday, but maybe the day's just getting everything out of its system early?
At least I have coffee. Some days the java just tastes better, and this is one of them.
I only got 450 or so words on HOOD's Season Three before dark yesterday. Once the sun went down, though, things got better and I ended up with a solid 2k+. Of course I'll have to look today to see if any of them are good words that can be retained.
No silver lining without a cloud, naturally.
Once I get the zero of Season Three out, it'll be time to cross that off my big to-do list and figure out the next six months' worth of writing. Normally I juggle one serial, two trad publisher books, and one project Just For Me at a time, with small breaks for revisions, copyedits, and the like. With the loss of productivity due to pandemic, fascist coup, and related stress, I'm not sure if that's do-able.
But if I don't write, we don't eat. It's that simple. Not to mention I can't go a day without writing at least something, or I start to feel diamond-tipped insect-feet itches under my skin.1 It's just easier to continue pushing myself than to allow any sort of break.
It's very… sharklike. Keep swimming so I don't suffocate, and wear a smile.
So. Thursday is antsy, but so am I. My coffee has cooled rapidly while typing this, and the dogs are very eager for walkies. I find myself eager to get out for a run; getting rid of cortisol and other stress chemicals through sweat has been a real sanity-saver. Of course, it doesn't balance out the stress-eating, but then again nothing's perfect.
Except for dogs, that is. Even when they punch me in the face first thing in the morning.
All right, Thursday. We're not going to hurt each other (any more), are we? Because I'm in a mood to lay some napalm if you get dodgy.
Over and out.