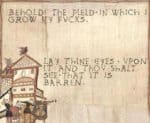 The weekend was almost as exhausting as the week it closed out, wasn't it. Whew.
But it also held good things, and this morning I want to focus on the good things. On Saturday I decided to do something I've never done before, and livestreamed a bit on Twitch. It wasn't much–just me sitting, knitting, bitching, and answering questions from the chat. There were a lot of questions about writing, and a lot of me staring blankly because I couldn't think of anything to say. I am told I have a restful voice, though.
It was an interesting experience. I intend to have some regular Saturday sessions, only for as long as it's fun. I've promised myself the power to can the whole experiment the moment it becomes un-fun. it was nerve-wracking and exhausting but also cool to get Reader questions in realtime, though I'm sure my frequent digressions are maddening.
Come Sunday, there was a full day of chores, and finally I could settle with more knitting and Secrets of Great British Castles, which was fun to binge and deeply interesting. (There was a lot of knitting this weekend.) Of course I did a lot of doomscrolling, too.
I can barely look away.
Still, it's Monday, which means work. There are copyedits to get done, and the last thing on the master to-do list hanging over my desktop–finishing the zero of HOOD's Season Three–to strike off. I have been waffling about what serial to do next. It might be Division Seven, it might be the story spurred by my Sapphire & Steel binge… I am also thinking about whether or not I want to try The Highlands War as a serial, but the chance of someone being pissy and torrenting chapters, thereby killing the entire series all over again, is not really one I want to run.
Before I get started on that, though…
Last Thursday I blogged about cookies and the fascist rioters storming the US Capitol. I woke up this morning to find a commenter (who has apparently had comments approved here before, which is how this particular one got through the mod queue) taking issue with my loathing of fascists, and telling me I had LOST a READER because of it.
I shall repeat my response here, so there is absolutely no confusion, grey area, or lack of clarity: GOOD. If my loathing of racists and fascists means you won't buy my books, GREAT. I do not want you or your money. Off is the direction in which you may fuck.
I am deeply and genuinely baffled that this commenter thought they'd get any other response. At least it gives me the chance to be absolutely clear about where I stand. And that, as they say, is that.
I'm doing my best to focus on the good things–the dogs thrilled to be embarking on another day of adventures and snuggles, the kids going about their own lives full of daily victories and setbacks to share, books to write, knitting to do, friends to cheer on and console, the cedars at the back fence to talk to, a run to accomplish, coffee to drink, the prospect of lunch, the fact that I'm still breathing. There are good things still, and things worth fighting for.
Gods grant I don't forget it.
So, to end in a more pleasant place, what good/fun things are happening in your slice of the world? Tell me all about it, if you've a mind to–no matter how small. Tiny victories are still victories, indeed.
After all, we're still here. And I think that's grand.