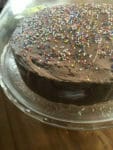 A lot of you are on the cake train, and I've got to say, if that's my contribution to the rising relief, I'm happy with it. (Bonus for all the "cake wasn't a lie!" jokes. I knew you were My People.)
However, I have definitely had enough cake, and though the enjoyment of cake is a renewable resource, I'm pretty sure I'm not going to make another one for a while.
The weather feathers are saying snow today. It won't last–it never does in this temperate part of the world–but it'll be nice to drink some hot cocoa and watch it come down, even if nobody told me we were out of sandwich bread.
Bloody hell.
I'm not heading out to the grocer's under these conditions. Everyone will be out panicking through their French toast shopping–eggs, milk, bread. I suppose I could whip up some bread dough and have that be the day's project along with getting the end of HOOD's Season Three arranged. I need this zero draft done, boy howdy.
I had a hot knitting date last night, so I didn't get in any work on the Viking Elementalist. It's all right, I still have to figure out what happens on her first night sleeping away from home. I think the werewolves are going to make an appearance, though not in the way the protagonist might expect.
I originally had a huge set-piece chase and stuff planned for the end of HOOD but it just doesn't make sense. The story wants a different route. I just wish it would have told me before now, but honestly, it was a bad year for both of us and I'm holding no grudges. I have to have faith that the story knows what it's doing and will bring us all home safely.
Faith in anything else, however, is in somewhat short supply around here lately. (Need I restate, it was a bad year and the January following was a real dilly too, even though it hasn't even ended yet?) It hasn't been a full week since the inauguration, but the time feels endless. I don't know if I'll ever get back to the pre-pandemic experience of time. I'm reserving judgment on whether that's a good or bad thing, just like I'm waiting to see if there will be any consequences leveled at violent racist insurrectionists.
I had a whole rant flash through my mind about how we're all shaky-legged in the first recovery stage after major ongoing abusive trauma, trying to breathe and flinching every time the madness looks like it's about to start up again. But Boxnoggin is alerting every time a stray gust of wind goes down the street, and I can't keep a sentence in my head long enough to type while he's interrupting every other word.
He wants his damn ramble, even though he's going to pick up his dainty paws and give me many a reproachful glance as soon as he realizes it's near freezing and yes, we're bloody well walking even though he's changed his mind.
You know, I bet I can still have the big chase at the end of Season Three if…
*time passes*
…aaaaaand I managed to get the idea onto a Post-it before Boxnoggin lost his shit again, since a nice lady with a stroller and two well-trained dogs was passing in front of our house, and apparently that Cannot Be Borne. There's sixty-plus pounds of dopey black boxer-terrier who needs to frickin' chill, and he won't until after a ramble.
Wish me luck. It's cold out there, and maybe I'll see a flake or two. Atmospheric, though. Not human. (Though our neighborhood has no shortage of the latter…)
Over and out.