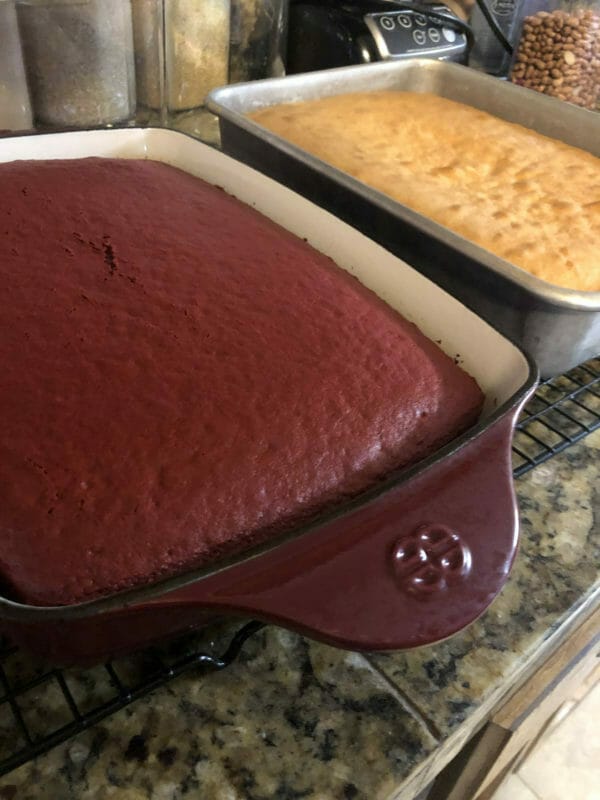 The week started out with cake and is ending with were-hamsters (don't ask) so… it's safe to say that the weird is still going strong Chez Saintcrow.
Nice to see some things never change.
Here's the end of last weekend's cake binge. The red velvet on the left remained unfrosted; it was consumed with whipped cream and fruit. The yellow cake on the right was frosted with chocolate (a classic!) and it did not survive the night. I was able to have slivers of remaining red velvet Monday morning, though.
I'm feeling more hopeful and more social, though I can't tell how long either will last. Mere survival isn't easier than rebuilding/healing, but when my focus is a narrow laser pointed at "just get through this" it seems easier than looking around at the wreckage and going "… great, now what?"
Wanting to weep at the sheer amount of damage seems a lot harder than just reacting and keeping oneself together while everything is still an inferno. I know it just requires different efforts in different methods of application, but it just feels harder.
Anyway, I probably won't bake another cake for a while. That's fine, there are other tasty things to make and enjoy. And while rebuilding is hard, it's also a vast improvement over constant daily retraumatization. Perceived effort is, in this case, not quite the whole story.
…I'm still going to need some time to breathe, though. Good thing it's a Friday.
Have a restful weekend, my beloveds. Be gentle with yourselves. The wreckage is still smoking, and we have yet to grieve. It's going to be a long haul.