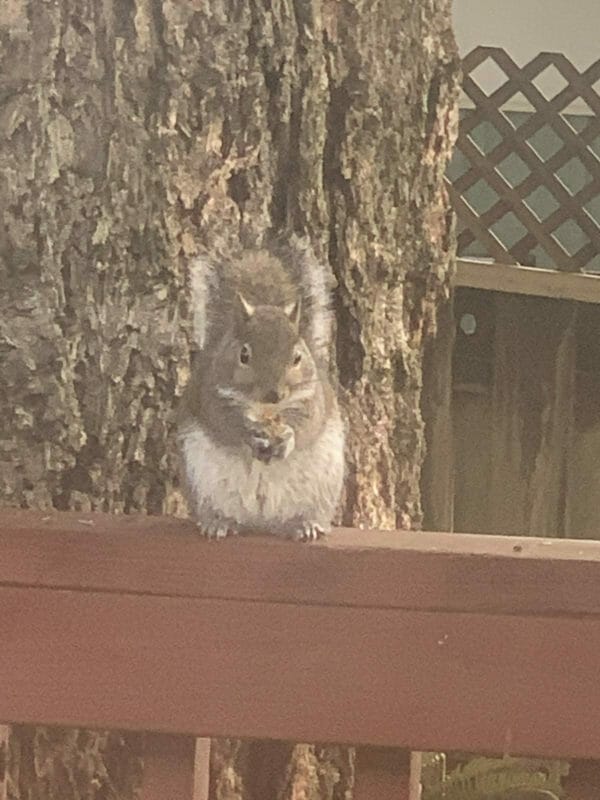 A little while ago, I was in the office, and my phone pinged. It was the Princess, texting me from the dining room, where the sliding glass doors to the deck are.
"GOOD LORD," I yelled down the hall. "DID YOU JUST TEXT ME FROM INSIDE THE HOUSE?"
"I DIDN'T WANT YOU TO MISS THIS!" she yelled back.
That was reasonable enough. "IS IT STILL THERE?"
"YEAH. I… MUM, I THINK HE'S LOOKING AT ME."
Well, there was only one thing I could say. "ARE YOU WEARING SHOES?"
"THE DOOR'S LOCKED."
"THAT'S NO INDICATION OF SAFETY," I yelled.
"YES, I'M WEARING SHOES… WAIT. OH WOW."
I was out of my chair in a shot, pelting down the hall. By the gods, if that chonky motherfucker was coming for my baby, we were going to have words. Even if I was only in socks.
So I skidded into the dining room, finding my eldest child staring out the sliding glass doors with a bemused expression. "He almost couldn't fit between the verticals," she said, in tones of surpassing wonder. "That is the very definition of a big boi."
"Almost a big chungus?" My heartrate began to drop below 'imminent combat', but I was still breathing a wee bit heavily. Then I looked down. "You're not wearing shoes. Those are slippers."
"I'm your kid," she pointed out, practically enough. "I can kick ass in these too."
I have rarely been so relieved, proud, and adrenaline-soaked at once.
Anyway, the squirrels are beginning to slim down from their immense autumnal roundness. They were preparing for a hard winter, I suppose, and it's nowhere near over yet. I'm pretty sure this fellow's going to survive, though. (Just look at those beady little eyes and those hefty hips.)
I've hit burnout pretty hard, beloveds. Normally I'd find some comfort in the fact that squirrels and cockroaches will survive humanity as a whole–life always finds a way, and all that. But I've hit the end of my ability to deal with all this bullshit, so my thoughts are tending in an entirely different direction. I'm hearing a lot of you are here with me, so at least we're not alone.
May we find the strength to endure, as this round fuzzy bastard apparently has. It's all I can hope for today.