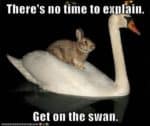 So yesterday I began the morning yelling about Isildur, went for a run with Boxnoggin, and came back bleeding from knees, hand, forehead and chin because said Boxnoggin startled when a bus drove past and took my legs out from under me.
Don't worry, Boxnoggin's fine. I was face-down on pavement, somewhat dazed, and he had the grace to nose at me like why are you on the ground, Mum? Is this where we live now? Is this the new game?
It's hard to be angry at a canine who literally doesn't remember what happened five seconds ago. Anyway, I didn't feel the rest of that run, what with all the adrenaline going on. The scabs are great and I'm telling everyone I got into a fight.1
But what you're really here for is Part II of Why Elrond Should Cut Isildur Some Ding-Dang Slack, right? (Part I is here.) If you don't like my nerding about Tolkien, you might want to skip this blog post too.
Ready? Here we go…
---
So Ar-Pharazon2 is getting ready to sail West, there's portents galore3, Sauron is sacrificing Elf-friends to Morgoth in the middle of Numenor, and Elendil has looked at this shit and decided "oh HELL naw." He tells his sons4 to load up their ships, and there's some deciding which harbor to sneak into. So Isildur (recovered from his TOTALLY BADASS raid to rescue a fruit from the White Tree, don't forget) and Anarion–his younger brother, who Elendil probably liked better since he was named after the sun instead of the moon like Isildur, although it could just be because the White Tree of Valinor was older than the Golden one, sure, whatever–load up their ships and await developments.
Not a moment too soon, as it turns out, because Ar-Pharazon weighed anchor and went sashaying westwards, and that pissed the Valar off but mightily.
AR-PHARAZON: "Look, about that Death thing, it really doesn't seem such a gift from Iluvatar, and there's this guy Sauron making some really good points–"
THE VALAR: "Look, we gave you ONE RULE, don't sail west towards our island, and what do you go and do?"
AR-PHARAZON: "But I'm the Golden King of Numenor, and I made this Sauron guy my servant and… oh, what the fuck, I'm coming over, we'll talk."
Every time I read about Ar-Pharazon setting sail and the Valar's response I can't help but think of the John Mulaney bit about a teenager at an illicit party throwing a bottle to the ground and yelling "Scatter!" when the cops arrive.5
In other words, the Valar decided oh hell naw too, and called their big brother to handle this bullshit. Well, Eru Iluvatar, God Himself, or the creative principle, or whatnot. And what does Eru do?
Well, Eru's conflict-resolution skills aren't great. He could have intervened against Morgoth's bullshit at any moment of the First Age, or against Sauron's bullshit at any goddamn moment in the Second and Third, but instead he… throws a tantrum when Ar-Pharazon sails West? To be fair, this was probably not the only ant farm Eru was tending, and Manwë, like most eldest kids left in charge of fractious younger siblings, probably didn't let him know things had gotten Out Of Hand until someone had to go to the E.R. So you really can't blame Eru for saying "EVERYONE GO TO YOUR ROOMS RIGHT-FUCKING-NOW, DAMMIT!"
Except when Iluvatar in his infinite wisdom6 does that, there's a giant cataclysm, Valinor is removed from the world (though the Elves can still get there), Ar-Pharazon's fleet is swallowed by the seas, and for good measure Eru sinks the entire frickin' island of Numenor–dogs, cats, babies, assholes, and elbows alike–except for maybe the one place where Tar-Miriel7 fled to high ground.
It's all very… Yahweh.
Anyway, I take all this time to explain because there's Isildur, chilling on the ships with his dad and his little brother, maybe hoping the Valar will sink Ar-Pharazon and then everyone can get on with their lives, and BOOM. Here comes the sinking of Numenor/Atlantis, and since Elendil & Co. were super shady and snuck into a bay they weren't supposed to be in, their ships aren't immediately smashed to flinders but tossed towards the continent.
They make landfall, and since the Numenoreans have been spreading along the coasts and exacting tribute from a lot of people they're not exactly penniless refugees, but the trauma of their entire damn island being smashed because one jackass just had to make a point probably didn't help anyone at all.
The only silver lining, I suppose, was that Sauron, hanging out on Numenor doing the ol' human sacrifices bit and laughing into his sleeve at how stupid Ar-Pharazon was, got caught up in the hubbub and lost his physical body. But he was one of the Maiar–basically an angel, you could say–so he didn't really… need it? Anyway, he fled and couldn't take "a comely form" after that, and spent a lot of time just rage-coalescing into The Eye.8
This would be enough trauma for any one person, but life's not done with Isildur yet. To give the Elves credit, they don't say "I FUCKING TOLD YOU SO,"9 instead focusing on "Hey, you've always been solid bros and you planned ahead, good job, let's get you some Band-Aids." So Elendil figures lemons outta lemonade, amirite? and he and his sons found Gondor in the south and Arnor in the north, and everyone settles down to maybe chill a bit and get some therapy.
Except there weren't any therapists on Middle-Earth, I guess.
Unfortunately, Sauron was still pissy, and he couldn't really consider the fall of Numenor a total 100% success because the jerkwads he hated most had survived and were swanning around with the Elves and making kingdoms and stuff. Elendil even thought Sauron was dead, but Sauron was all "OH NO, NOT EVEN CLOSE" and Elendil was all "…shit."
ELENDIL: Okay, so I'll hang out in Arnor and you two hang out in Gondor, play nice with each other.
ISILDUR & ANARION: Sure, Dad!
ELENDIL: I'm so glad Sauron's gone!
ISILDUR & ANARION: Us too, Dad!
WITCH-KING OF ANGMAR (just not yet):10 THINK AGAIN, MOFOS!
ELENDIL: Oh, for Eru's sake…
Now we're getting into more well-known Tolkien history. There's the Last Alliance of Men and Elves, and after they lose patience with Sauron being a pissy asshat they march out to give him stern talking-to. The Elven high king Gil-galad11 had a bone to pick with Sauron too, but Anarion (remember him?) was killed in the siege of Barad-dur.
ELENDIL: We're gonna go kick Sauron's ass.
ISILDUR & ANARION: Sure thing, Dad!
GIL-GALAD: Look out, there's a–
ANARION: *gets crushed by a falling rock*
ELENDIL: …that was my favorite son, dammit.
ISILDUR: Well, this sucks.
So here's Isildur. He grew up under the shadow of a murderous authoritarian regime, never once betraying his dad or his dad's friends, risked his life saving a scion of the White Tree, did what his father said and got the getaway ships ready, saw his entire home (along with dogs, cats, babies, and everything else) perish in the grand-daddy of tsunamis or volcanic events or BOTH, built a fresh new whole-ass city in the south with his little brother, then has to go march to Mordor because Sauron is still being that fucking guy, and then he sees his little brother–who his father probably loved more–die terribly12 during the siege.
I'm just sayin', a therapist or two in Middle-Earth would have saved a whole lot of hassle.
Isildur's on the battlefield, friends dying all around him, his little brother's crushed to paste, and what happens? Isildur's dad–the father he never betrayed growing up, the father he stole the fruit of the White Tree for, the father he loved–also dies terribly at Sauron's hands right in front of him.
Isildur does what eldest children do13–he saves the day, going mad with grief and rage, and he fucking kills an angel.14 We're not talking Michael Landon mouthing soporifics or a little Hallmark cherub, no sir, Sauron was a fucking Maia, an immortal ageless being with so much life experience it wasn't even funny.15 Even Gil-galad, a Noldorian High King, couldn't stand the heat of Sauron's hand, though there's some contention that Elendil and Gil-galad sacrificed themselves to get Raid Boss Sauron down to the point where a single fighter could coup de grâce.16
GIL-GALAD: I'm on cooldowns! Cast something! Shield, something, anything!
ELENDIL: I'm not a fuckin' paladin!
ISILDUR: I hate everything right now.
SAURON: *casts Immolate*
GIL-GALAD: *burning to death* …shit, I'm out, where's my battle res?
ELROND: I'm in combat, I can't fuckin' cast it!
ELENDIL: *berserks*
SAURON: *has the One Ring buff* HAHAHAHAHAHA!
ELENDIL: *burning to death AND beaten to a pulp* …well, that didn't go as I expected.
ISILDUR: *all cooldowns have reset* LEEEEEEEEROY JENKINS!
SAURON: …shit.
Isildur slices! He dices! He saves the entirety of Middle-Earth during this terrible fucking battle, and at the end of it, all he gets is this lousy ring.
Now, if you've watched the movies, it's actually pretty close to the book. Elrond and plenty of the Elves were all, "THROW IT IN THE FIRE, DIPSHIT!"
Just think about Isildur, though. This guy, probably suffering several different flavors of holy-old-hell PTSD, just saw his father beaten to death to top everything off. Is it any wonder the One Ring was all "hey, buddy, don't throw me away–what else, after all, do you have left?" and Isildur listened?17
Isildur saved Middle-Earth and lost everything in the process; of course he was determined to keep a loot item that might rebuild a little of it. Then, as a final fuck-you,18 the goddamn Ring betrays him, slips from his finger in the river, and he ends up with a bunch of orc arrows in his back.
And Elrond–who of all people should understand, being orphaned too and seeing all this shit go down on the battlefield–still gets snitty with Gandalf over it centuries after.
Now, my beloveds, you understand what I'm saying. Isildur, son of Elendil, got a raw goddamn deal.
---
There's a lot in Tolkien to disparage–the misogyny, the racism, the turgid prose, I could go on and on. There is also a lot I find value in, not least because Lord of the Rings was one of the works that gave me hope as a kid suffering my own version of thralldom in Angbad. There are certain points where Tolkien as a writer was operating at one, conscious level while the meta versions of his characters were doing something quite entirely opposite. (See: Book Eowyn, and that paragraph where Tolkien realizes he had a girl kill the Witch-King of Angmar and frantically backpedals, making it so the knife of Westernesse in the hands of a hobbit who at least had twig-and-berries could get the XP from the fight.19)
As a writer, often balancing on that knife-edge between control over the universe of my creation and the work doing what it will because it's an organic whole, I derive a great deal of comfort from the meta-versions of the characters. Sometimes the work knows better than the writer what's needed, and to his credit (or maybe because he took so much refuge in the legendarium to stave off his own horror and survivor's guilt) Tolkien often let the meta-characters do as they would.
Maybe he didn't even notice.
Maybe I'm delving into Tolkien as an escape from 2020. Maybe there's the added attraction of being able to make ManFan heads explode, and the amusement I get from jackasses in my inbox telling me I have ruined Tolkien 4EVA by getting my filthy girl cooties on it.20 Maybe I see something a bit noble in Tolkien père's21 dedication to his imaginary world and Tokien fils's dedication to his father 's work.22 Maybe it's just the exhausted writer in me crawling back into the comfort of fanfic, where someone else has done the heavy lifting and I can just enjoy the ride. Maybe I just want to share something I find strength in, maybe I just love to yell about cool things. Maybe it's all this, and more.
I've got to get some more ibuprofen. I hope you've enjoyed this little detour into nerdery; heaven knows I've enjoyed writing it. Sail on into the West, my friends, and don't take any wooden Silmarils.
---
Here endeth the tale.
…for now.