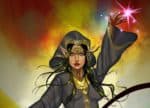 I slid into a deep hole of procrastination last night, ending up livetweeting bits of The Silmarillion. Well, more like shitposting, because oh dear gods there is some funny shit in there. Plus, I have the three-volume box set History of Middle-Earth because why the hell not, and there was even a Saruman-Sons of Feanor-Galadriel-Prince song joke included!1 Not to mention Gandalf and Galadriel's Discord chat logs ("Saruman's still talking" "Well wtf do you expect he's SARUMAN"), Idril Celebrindal's dick jokes (nothing the Eldar love more than a good dick joke, and in Gondolin they had to make do), Elrond's constipation (did he have to poop one last time before deciding to join the Eldar, or did it just… fossilize in there?), Feanor's sons pirating a T-shirt design… look, what I'm saying is there was a lot.
The Reply Guys and Mansplainers found the threads last night, which I knew would happen eventually. What's even funnier is some of the ManFans have found them, and consequently when I checked my email this morn–lying in bed, for great is my power, I have an iPad–some of the ManFans had, with a great deal of effort and labor, taken themselves to my website, to the very contact form itself, and proceeded to correct some typos and also inform me I have, in my monstrous might, ruined Tolkien forever.
I think they mean I got my ovaries too near the material. How dare a girl make Tolkien dick jokes?
You know who would have loved a good dick joke? Strider. Also, Turgon, and I'll bet Feanor had a filthy mouth. Glorfindel and Ecthelion both slew Balrogs with the power of trash-talking2, and even Finrod Felagund dropped bars on Sauron and you can't tell me some of it wasn't volleys of diss.
But among the Eldar, the greatest teller of dick jokes was Galadriel, who could crack Luthien up across a crowded elven hall just by looking at her and thinking them.
…you get the idea.
You can't hear it, but you can imagine me laughing in bed, both dogs cuddled up close and blinking, as I scan the missives of furious men who don't want girl cooties on their Tolkien. Sucks to be you, boys–ol' JRRT, even though he was a massive misogynist who betrayed every female character he ever set his pen to, was very explicit in his letters that he wanted other people to play in his legendarium. It was what the whole effort was for–I mean, primarily there was his joy in making the thing, but he also wanted others to play in the sandbox. Like Morgoth's rage-boner for Luthien, it's canon, baby.3
The thing with opening your sandbox is sometimes the cats visit it.4
Anyway, I am drunk with power this morning, having apparently achieved with little effort and a great deal of mirth the total destruction of a whole and veritable fantasy literature cottage industry. Clearly I do not know my own strength, nor the power of my laughter. Lo, I am a veritable Tulkas, motherfuckers.5
It's all very well but I have space opera to write, and the John Wick meets American Gods book. Then maybe I can turn my attention to Team MonsterFucker Goes to Gondolin, full of highfalutin' deeds and dick jokes so subtle they are like elfsheen upon the hair of Morwen of the house of Beor.
My coffee has cooled and the dogs are very sure my laughter means we're about to go rambling, so I'd best not disappoint them. It's good to laugh again, since the slow-motion disaster of pandemic and coup is giving a little breathing space. Maybe that's why I'm rereading Tolkien, hoping that some good comes out of this despair.
And maybe I just think dick jokes are hilarious, and like Galadriel says, "you gotta take your humor where you find it because who knows when a Balrog will come along, RIGHT GLORFINDEL?"6
*fades into distance, laughing*