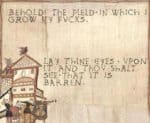 I took almost the entire holiday weekend off (save some mischief-managing, of which not a word shall pass my lips until the entire affair is finished) and read a lot of Tolkien. Like, a lot–the Fall of Gondolin which his son put together, and the Silmarillion once more. I also splurged, since there was a release day, and more book Middle-Earth is coming to my house.
I don't know why the Fall of Gondolin fascinates me so much. Probably it's the tragedy, and the figure of Maeglin. The son of the Dark Elf had a hard go of it, and honestly without him there wouldn't be much of a story. Like how without Morgoth everything would be hunky dory and we'd hang around singing to Iluvatar all ding-dang day, which might be nice, but… and without the Silmarils there wouldn't be the entire Wars of Beleriand and all that jazz. The villain is a prime motivating force in many a story, and thankless work it is, too.
You remember those old Disney specials where the Magic Mirror would talk about how cool the villains were and how without them there'd be nothing? Or maybe it was only one special, but it occurred at different points on television and I was always fascinated.
I don't necessarily want to write it from Maeglin's point of view, much less Morgoth's, though the idea that Eru was like, "I've got this plan," and Morgoth was all, "It requires me to be a bastard, though, doesn't it," makes me want to laugh like the "get help" gag between Hemsworth's Thor and Hiddleston's Loki. It presupposes a plan and a just, if not a kind, universe; in that, Tolkien wrought more religion than he knew.
Of course there's the whole psyche-violated-by-WWI thing, and the idea that Morgoth just didn't want to go with the program and Eru was a jerk about it, or that Morgoth was the Arda equivalent of an authoritarian fuckwit, which yea even unto the gates of heaven shall be with us like the poor are said to be. Who knows?
Anyway, there's the third season of HOOD to finish and The Black God's Heart to make good wordcount o, because I wasn't allowed to work for the past couple days, at risk of being tied up to a chair in the living room while the children glowered at me if I even attempted anything that looked like work. I gather I was getting a little too stare-eyed and intense, and they were a bit worried.
I do wonder, though–do you, dear Reader, read in your dreams? One of my friends sent this article recently, and I've been thinking about the books that have come from dream-images as well as the plot problems my subconscious has thrown into my sleeping hours in order to get resolved in interesting ways. I dream in hypersaturated color and have read more than a few books in dreams, though I can't work a cell phone in them for the life of me. Not a few of my anxiety dreams have centered on trying to make a dream-phone behave, but the circuitry always seems wonky.
I think the last book I read in a dream was a version of Nancy Price's Sleeping With the Enemy where the protagonist Sara drove race cars. I remember one passage that Price couldn't possibly have written with two minor characters late in the book, and sometimes when rereading (it's one of my go-to reads, revisited about yearly) I'm surprised to find it not in there, and I miss the descriptions of cars flying on the track with the wheel safe in a woman's gloved hands that I read only once in said dream.
So, I'm curious. Do you read in your dreams? And now I'm off to finish my coffee and take the dogs for their ramble; Boxnoggin is eager to run since we took a few days off. He needs work, and so do I.
Back to it, then. Back into the fray, or into the dream. Not sure I can tell them apart at this particular moment, but that's for the coffee soaking in to fix. All I have to do is let it work.
Over and out.