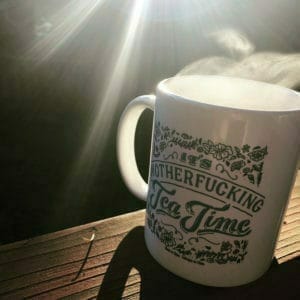 The dogs are quite upset that I won't go anywhere without finishing my coffee. I try to tell them it's for the best, that dragging me anywhere uncaffeinated is a Very Bad Idea, but since they've never known1 the glory of tea or a latte they are unwilling to be convinced.
Yesterday was… not very productive. I should have known that two days of normal work would require a day of threadbare wandering the house, muttering to myself and being utterly unable to settle or produce anything like real text. I did roll around in a couple trunk novels and change a hair color in the portal fantasy–what on earth did we ever do without Ctrl-F, I ask you–and savaged myself internally for being so apparently lazy I can't produce at my usual rate during a pandemic and attempted fascist coup.
I'll take "Things you say to yourself that you would never dream of saying to a friend" for $400, Alex.2
I do know what we did without Ctrl-F; I wrote two novellas on a manual typewriter when I was a very young sprout. Both are resting safely in a landfill somewhere; I couldn't go back to retrieve them like a gecko running back to eat a tail they left in a predator's claws, even if I wanted to. Still, both burn in me, and sometimes I think of them and my old diaries, safe amid tons of rubbish.
When you have to throw away things that matter to you to survive, their ghosts can still comfort you. The important thing was that my adult caregivers–I don't really want to call them parents–couldn't grab and befoul them. Some victories, even though Pyrrhic, are still worth celebrating.
Not all. Just some.
Anyway, I'm vertical, if not technically awake, and sucking on some lovely espresso-ground caffeine sent by a dear friend. The dogs are patrolling up and down the hall, ready to nudge me for where the leashes hang near the sliding glass door to the deck upon the very instant I seem ready to take them for walkies. Yesterday held no thunderstorms–for which said dogs are grateful, even if I am slightly disappointed–despite the unsettled rain-sun-rain bands moving through. That's probably the cause of the throbbing headache I barely even noticed all day, being occupied with kicking myself for being unable to work.
I even went so far as to think "it's raining, I don't deserve to be in this house because I'm not working, I should go out and stand in the rain and be miserable." I know it doesn't make sense, but apparently control over making myself feel bad is the only control I feel like I have left with the world spinning so violently.
Fortunately I did not go stand in the rain. For one thing, the dogs would insist on accompanying me, and I didn't want them cold or wet. For another, I realized it was a ridiculous thought, though it recurred at jet-takeoff volume inside my head all throughout the day. Instead, I made myself hot chocolate, texted friends, snuggled the dogs, attempted to read, touched shelves of books, and tried to watch Richard Armitage smoldering in a cravat.
Finally, I settled in bed last night with old war documentaries. I don't know why they're so soothing–probably the fact that the situations in them are long done with, nothing I can affect either way, and the narrator's voice stays at a steady droning pitch throughout, maybe. It does mean my dreams are mostly in sepia with weird flashes of hypersaturated color instead of all-color, which gave me a bit of startlement when I surfaced this morning. I thought holy shit, have I lost dreaming in color too?
I have absorbed a bare minimum of caffeine now, so am probably safe to leave the house for dog-walking and the running of the Boxnoggin. Said Boxnoggin is prancing up and down the hall, attempting to drag me forth by sheer force of will; Miss B has settled on my feet as I type, on the principle that the instant I move she will be alerted and ready to supervise and heeeeerd me.
Suppose I'd best get going, then. This is the downside of priding oneself on sheer endurance; one can't even mope in the rain like a silly romantic poet.
Be gentle with yourselves today, dear Reader. I know it's rough, but it's survival, and that is a victory. A non-Pyrrhic one, even.
Over and out.