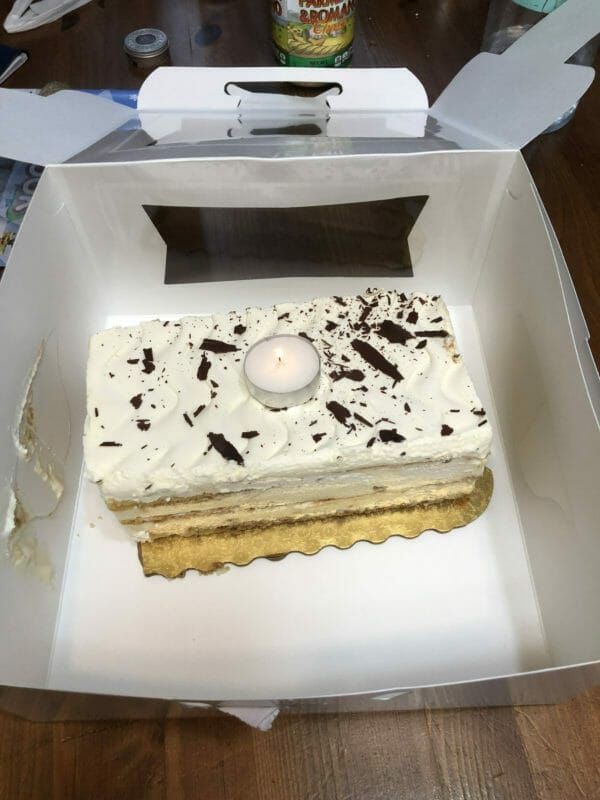 So last weekend, when the news came that the election was no longer in doubt, I double-masked, grabbed hand sanitizer, staggered out, and brought home a celebratory tiramisu.
The tiny local bakery (always my first choice) was jammed with (masked) customers so I didn't even get out of the car; there was nothing in one supermarket bakery, so back into the car it was. I lucked out in the third, and carried my prize home.
We put a tea light on it, and the Little Prince–as our newest registered voter–got to make a wish for democracy and blew the candle out.
It's been a week, hasn't it. The nightmare is not over, but the chances of a coup are slowly–sloooooowly!–receding. We're not out of the woods yet, but as Churchill intoned sententiously, it may very well be the end of the beginning.
I'm tired, and still a little ill. I know you're tired too, my beloveds. I have grown to dislike hope over the last five-six years, since it hurts so much when that hope is ripped away by fascism. Still, like a cockroach, hope survives in hidden cracks, and I have been feeling it these past few days.
At that third supermarket bakery, the lady behind the case nodded when I asked if everyone else was celebrating Pennsylvania declaring for the forces of good, too. "Oh yeah," she said, quietly, the corners of her eyes crinkling with a broad smile behind her mask. "Everyone's tired, but so happy about it. Want ten percent off?"
Bless you, Bakery Case Lady. Bless you, bless you deeply.
So. Last Saturday the kids and I gorged on tiramisu and hope at once. After a long time in dark hopelessness, we are hungry for the good.
Here's to hoping, then. (Even I can't eradicate that cockroach.) Here's to hoping, and to kindness, and to working together; here's to a ringing defeat of fascism and its fellow travelers. Here's to the end of the beginning.
There's a lot of work ahead of us, I know. And it's a Friday the 13th in 2020. May Freyja grant us light and strength for the road ahead.
Oh, and cake, too.