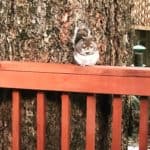 It's a lovely grey morning. I took yesterday off and watched some movies; I had never seen Kobayashi's Kwaidan before, but I read Hearn's book earlier this year (at least, I think it was earlier this year; time is doing strange things) and decided why not? It, along with a book on the mystical tradition of a certain bodhisattva, was a good break from everything else, and now with Max Richter on the playlist and my running togs all clean and folded (because yesterday was also laundry day) I am somewhat ready for more of the damn epic fantasy.
I did get the barbarians to invest the capital city. Now it's a siege, and I have the armies marching both north and south. The big problem will be showing the Emperor going quite mad in the little time I have left, but I have faith that can be accomplished–if not here, then in revision.
I just want this damn zero draft done. I might have to get the lady in waiting (who is now a princess in her own right) dragged to the dungeons; that's a sticky problem that needs to be solved rather soon.
Both dogs are extremely active this morning. Miss B in particular wants her walk, and wants it now. Boxnoggin, of course, feeds on her excitement and has refused to eat his brekkie, so I'm sure there will be many pinecones menaced while we ramble.
At least with them egging each other on I managed to get my shoes tied without help this morning. It's the little things. I'm also super hopeful that the beehive I saw a few weeks ago is still functioning, being left alone by humans to Do Its Thing.
The squirrels are getting fat for winter, though none have been able to surmount the YANKEE SQUIRREL FLIPPER DEATHRIDE 5000. It's kind of like having a mechanical bull in the backyard. Many are called, few are chosen, and even fewer manage to hold on for two seconds, let alone eight.
…there are all sorts of jokes I could make, right? I'm twelve inside, and snickering wildly.
So now I ramble the canines, run my own poor body ragged, and come back to a city under siege. It'll be a good day, especially if I can drive the Emperor mad in due time. I mean, he was already halfway there when he–but that's a spoiler, isn't it. I should be careful with those.
Happy Monday, my beloveds. Keep those machetes handy. It certainly seems like the year's accelerating, lunging for some utterly insane finish line.
Over and out.