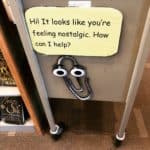 Sunday chores mean my desk is somewhat better organized–not too organized, since a little bit of mess allows room for creativity to sneak in. Or maybe too-neat just stresses me out of any kind of proper work mindframe. Six of one, half a dozen of the other.
The weather is turning, so there's some sniffles and sneezes in the house. Every time one of us reaches for the tissues I tense up, wondering if it's the plague, if it's the moment I have to start making awful decisions.
Fortunately, it seems to be nothing more than the usual postnasal drip that happens along every time our damp autumn wanders in and settles down to. But still, my nerves twitch all sideways when I hear a sneeze. We're still enduring lockdown and masking up whenever forced to leave the house, except for during outside exercise. When the rains start there will be nobody on the sidewalk to infect, either; I won't have to hop out into the road when a middle-aged white man decides he's going to take up the entire bloody walk with his waddling self.
The zero draft of The Bloody Throne, full of holes and bracket notes, is set aside to marinate–generally one of the hardest times to endure during project, since it's still smarting and itching like a fresh scab. I have revisions on Damage and Moon's Knight to distract myself with and get out the door, as well as continuing work on HOOD's Season Three and The Black God's Heart. I forced myself to only write on things that do not resemble work over the weekend, which means there's 8k of text I'll probably never use–a mismatched pair of occult detectives who talk like an old BBC serial is great fun, but I don't think it's publishable, you know? Still, it was therapeutic, and bits of it might be used elsewhere, who knows?
The coffee tastes particularly fine this morning. I long for caffeine to soak in and finally give me a spark or two. Taking three days off should be enough to recover from an epic fantasy, right? I should be right as rain now.
Except I have the sneaking suspicion I'm not, and it'll hit me in the middle of revisions. Normally it takes three times as long as one thinks to truly recover form the end of a project; unfortunately, nothing about the time is normal. It's all out of whack, if not completely out of joint.
At least there's no time to be lonely when I can sink into characters. Not that I ever feel lonely anyway; there's generally so much to do and see and think about. I did have Midsommar flower-crown dreams, so maybe it's time for me to poke at that one story with the wolves, the snow, and the flowers out of season. That sounds a lovely way to procrastinate, doesn't it?
But no, the bloody revisions need attention. Whatever I'm going to procrastinate with will have to creep around the edges, stealing precious bits of sweet forbidden time.
Maybe another book will hash my wrists on its way out of my head. In any case, sunrise has strengthened behind the cedars, and the dogs are longing for me to finish my damn coffee and get to the real work, which is taking their fuzzy asses on a ramble. My human concerns are all very well, but they have actual business to conduct, or so they keep reminding me.
I'd best be off, then. We survived another weekend; I want to hide in my closet until after the election but I have to work. And my ballot needs to be dropped in a box instead of mailed; I'm taking no chances this year. So that will mean a short drive this morning too.
May we vanquish our Monday, dearly beloveds. I'm not anywhere near ready, but that's why we have coffee, isn't it.
Over and out.