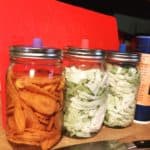 I decanted a lot of sauerkraut yesterday; today I put a fresh batch in the crock. The world might be mad, but fermentation remains the same. The microbes do not GAF, as my kids might say.
The clouds have moved in. We're looking at rain for the weekend, which of course pleases me to no end, since I have to finish this damn zero and it's dragging. I feel like I'm waiting for the ice on a Russian river to break up, with that immense creaking and cracking you can't forget once you've heard it. Soon everything will break and the torrent will carry me down to the sea of having finished another gat-damn book.
In other news, the portal fantasy I wrote at white heat during my lockdown nervous breakdown seems to be an actual book and not just a collection of disjointed mutterings. At least, so my beta readers and agent say, and since I can't see the forest for the trees right now I'm going to have to take their word for it.
That is, after all, why one has beta readers and partly why one has an agent. You can't see the book clearly when it's less than an inch from your nose; you need a second (or third, or fourth) pair of eyes on the thing, yelling the description so you can guess. Trust is essential, and so is the commitment to be gentle and truthful at once. If not for my beta readers loving the portal fantasy, I would have kept it on my hard drive and not allowed it to go to my agent, which she says would be a great loss.
The dogs seem to sense I have finished my coffee and are lobbying hard for a walk. Despite the hour I can hear a leaf blower going somewhere in the neighborhood; it is gloomy outside and that is the way I like it. A new book is trying to push its way through the noise in my head, but I've enough to do without adding it to the pile; it will have to stay just a series of disconnected images and dialogue inside my head.
Fortunately, the half-formed stories are a refuge from both actual work and the raging torrent of bad news that is current events. I can crawl into the stories when I need some respite. I don't know how people without that safety do it.
So it's time to chaperone the fuzzy quadrupeds, haul my reluctant carcass on a run–the new shoes are doing all right, though I could wish for a bit more cushioning–and a whole day spent in a city under siege. Maybe I'll begin to hear the distant song of cracking ice, maybe not.
Sooner or later, though, if I just keep chipping, something will happen. I have to believe that, or I might as well give up entirely.