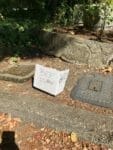 The French lesson this morning was très unsatisfactory. For one thing, it was ground into me all through four years of French and Spanish in high school that the informal address is absolutely not to be used on strangers, but apparently all sorts of modern language-learning programs force one to use the informal as a matter of course.
This burns my biscuits, as my grandmother might have said. Americans are already gauche, selfish, and rude enough when they sally past their own borders; there's no need to make it worse.
Anyway, I'm itching to get back to work today. I'm only allowed a half-day, since I will beyond question hurt myself if left to my own devices. A coughing fit this morning scared me into wondering if I've the plague–sure would be nice to have actual tests and a functioning federal government, wouldn't it.
There's another season of Unsolved Mysteries to absorb, so that will eat up some of the day. And maybe I can go to bed early. Really I just want to be working while I'm conscious, or sleeping; I don't want to mess about with things like eating or washing or interacting. I just want to crawl into my stories and pull the wormhole shut behind me.
I'm tired on a much deeper level than the physical, and there's still November to get through. While talking with a friend last night I realized I don't even want to hope, because it hurts so badly when hope is ripped away and stamped on. I knew there were cruel, awful people in the world–I was raised by some of them–but I had no idea there were so many, or that others were on the fence and would be emboldened by open fascism.
It's somewhat of a shock to look at my earlier self and think that the lady was indeed a sweet optimistic summer child. It strikes right at the root of who I thought I was; I thought well, I've survived hell more than once, not much else can disturb me.
I hate being wrong about things like that.
But there's still coffee, and I still have to walk the dogs. And once I've walked them, I'm already in my running clothes so I might as well run, and once I do that I might as well have lunch. I've set up my life to force myself into at least the minimum of daily self-care. It's just little things, like setting out my running clothes before I go to bed and keeping a calorie counter so I have to eat or get a notification–and gods help me, I hate phone notifications and will do almost anything to avoid them.
If I am very, very good and get the self-care done, I will be allowed to crawl into a story and forget, for a few hours, the crushing burden of living in a world populated by far many more cruel people than even I ever believed possible. And if I am superlative I may even reward myself with some of the alien romance, or the occult detective story I am absolutely not playing hooky with, no ma'am, perish the thought.
Maybe I'll even pause in front of the beehive and whisper a thank you to the tiny dancing creatures. At least they–and the dogs–aren't cruel.
What's giving you joy today, my beloveds? Or if not joy, what's giving you the strength to carry on? Drop it in the comments; strength is bolstered when it's shared, and I could do with a little reinforcement. I think we all could.