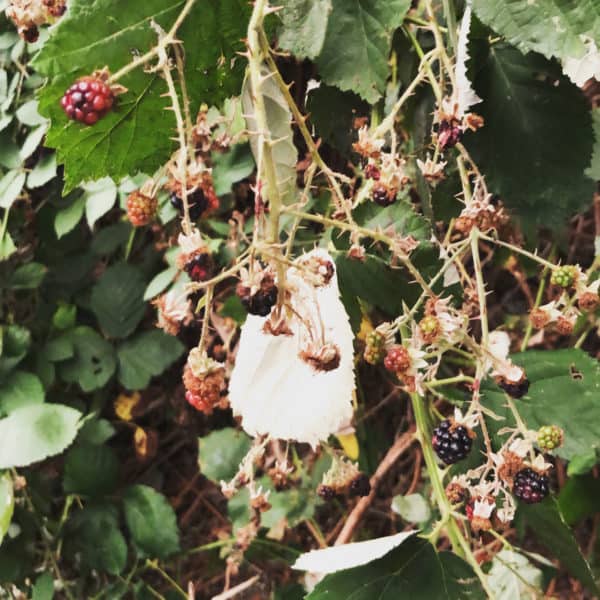 We haven't had the sort of summer that makes for good blackberries. They're kind of bitter this year, at least in all the usual places I stop for a few while rambling. This photo was actually taken the day before the smoke descended; even before that terrible time the berries weren't exactly sweet.
I don't blame them. It's been a dreadful year. At least the birds don't seem to care what they taste like; calories are calories and winter is approaching. The rabbits are moving uphill on our street, plundering gardens with abandon, and so many people are home during the day to refill their squirrel feeders we have a positive plague of arboreal rats.
Despite all that, the vines are juicy and healthy. The trees, though many are dropping heat- and smoke-stressed leaves and needles, are full of the usual autumn murmuring. They're not quite ready for bed yet, but wending that way. The moles in the uphill park are bracing for the rains, busily delving like lords of Moria; a hawk has taken to perching above my office window and hummingbirds buzzed me twice on the deck yesterday.
I prefer autumn anyway, but this year it's also welcome because it means somehow, at some point, 2020 will end. I don't pray for it to end well, because I'm fairly sure it won't. Surviving it will be an accomplishment; the next two and a half months will feel endless.
They're bitter berries this year indeed. But the vines haven't given up yet, and I suppose that means I must endure too. I just wish I could grow some thorns.
To our survival, then, my dears. Here is a handful of blackberries; use them well.