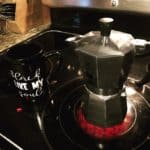 I am standing slightly beside myself today; I took half the weekend off even though The Bloody Throne is itching under my skin, desperately trying to gather enough momentum to lunge for the finish. This week will probably see the zero draft done if I can just work hard enough.
All this has taken such a toll on my productivity. I'm used to a bare minimum of two projects at once, three is where I'm most comfortable juggling, but now I can barely manage one at a time. The shifting between projects, usually so effortless, is like stripping each gear in a manual while you're trying to get on the freeway.
In other words, it's terrible and I hate it, hate it, hate it.
At least there's no smoke. Rain has cleared the air and the local fires are out, I think. I have a bit of a cough and some nasal drip left over–at least, I'm blaming it on the smoke instead of the plague, because the latter is just too terrifying to think about even if I am in generally good health and taking my vitamin D supplements.
It would be nice to live in a functional country, but… here we are. I read a piece this past weekend about how America is already in collapse, and rather than sending me into the doldrums, it was the last piece I needed to sort of come to terms with all this. The thought "well, I did everything I could, I warned everyone who would listen, but now we're strapped onto the rollercoaster and there's no getting off, so I'd best make sure my seatmates are buckled in as well as I can make them," is oddly soothing.
I was waiting for things to settle into the new normal, no matter how much I hate calling it that. Or, to be more precise, I was waiting for my emotional response to get through the few weeks that hit once I have scraped the bottom of my energy barrel responding to a crisis. The unsteady, gas-fume feeling of just waiting for a spark or a lit match has drained away to a deep, flinty determination to survive and carry those I love with me, so at least there's that.
Grim determination in the face of disaster is definitely not my jam, but it's familiar and I'm good at it. At least as a lifetime sufferer of anxiety and panic attacks, I feel relatively well equipped for all this bullshit; it's somewhat soothing that for once my emotional response to events is absolutely not an overreaction.
…I had more to report, I suppose, but I've finished my coffee (I had to stand in front of my stove whispering "oh please, please give me caffeine" at my Moka pot this morning) and the dogs need walking. I long to jump straight into work, but I also need a run. This delicate emotional balance requires exercise endorphins to keep it afloat.
I even ordered new running shoes, since my old ones are getting worn and my back's beginning to inform me I need more cushioning. (Some parts of getting old are less pleasant than others.) Which is a sign that some part of me believes there's a future. Either that or I'm just swimming blindly until finality strikes.
Six of one, half a dozen of the other, I suppose. And since the air is all clean now, I might as well do a deep scrub on my lungs by hauling my weary self through another six kilometers or so. At least it feels good when I stop.
I've a dynasty-ending battle to write, not to mention a junior prince making a bid for another empire's throne, and maybe a lady in waiting apologizing to yet another prince for a princess's death. It's going to be a long day, and I hope someone else in the house has an idea for dinner. I made cocoanut chicken curry last night, and it was marvelous, but there's very little left and I suspect it's going to be a week of "get your own supper because Mum is exhausted." Fortunately, after fifty-plus books (I've decided to quit counting) the kids are used to that, and both are old enough to cook.
Happy Monday, everyone. Make sure your own mask is on before attending to your neighbors', and take a deep breath. We're still here, we still endure.
It will have to be enough.