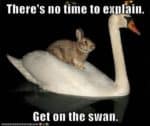 I hit the wall last week. Bigtime. I'm still twitchy, but taking a few days completely off social media performed a wonder or two.
It didn't catch me up with actual work, mind you. But it did mean I am three scenes from finishing a zero draft of a 100k portal fantasy. That's right, Moon's Knight is within spitting distance of being done. I don't know why the Muse chose this particular story as therapy, but I don't really care. It's enough that the words are still coming, even if I am now terrified that I've thrown my publishing calendar off for the year.
Whatever. Between pandemic and fascist coup, I'm glad to be writing anything, frankly.
I suppose it's like leaving the house with small children–one always triples the estimate of necessary time, one always has to carry a tonne of supplies, and one has to be ready to stop and go home at a moment's notice.
The problem is, home is burning merrily. A fully involved, five-alarm fire, so I can only stand on the kerb with my aching hands and bits of stories, watching the light flicker.
Isn't that a terrible mental image.
Anyway, my method of coping was to become utterly possessed with a book that will probably never be published, and to sink into it when I should have been working on other things. I did realize what was going on and gave myself until today to get it sorted, which means I'm only a few scenes from the end and can go back to regular work either this evening or tomorrow.
The dogs still need walking, I still need a run. We've had the hottest part of the year so far, and it's been gross. Plus the Princess's bike was stolen from her work this past weekend, which is just cherry on the cake. She doesn't want me to do anything about it, wants to handle the situation herself. My mother-instincts went into Godzilla mode, but the Princess's needs take precedence, so I'm biting my tongue and wringing my hands.
There's a lot of that going around lately. But at least there's one more book in the world–even if nobody else will ever read it–and I've proven to myself that I can indeed still finish a story. I needed the reminder badly indeed.
I suppose I'd best get started. Moon's Knight isn't fully finished yet, after all. Just three more scenes. It always takes longer than one thinks it will, but I have a small glimmer of hope and the rest of Monday.
It's going to have to be enough.