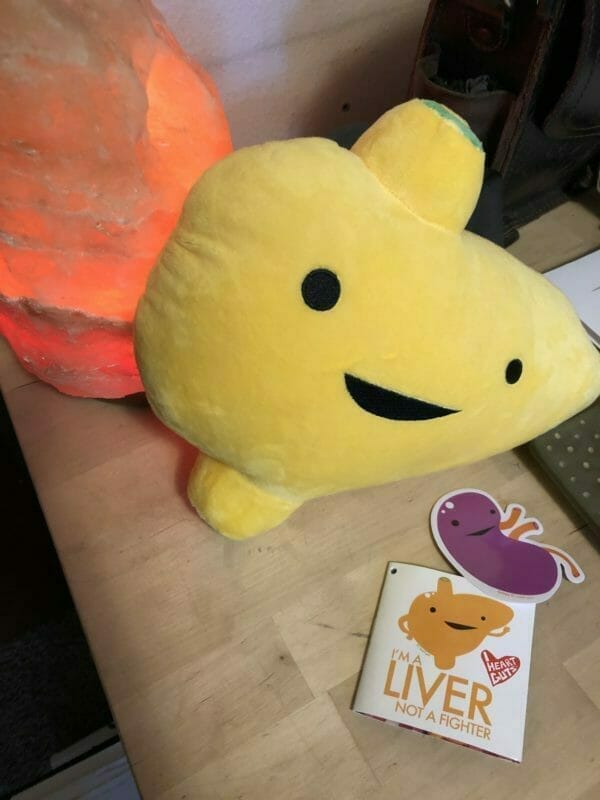 We'll return to the tale of Boxnoggin, Travis, and the Venerable on Monday. For right now, meet Percy, my liver-shaped D&D mascot.
My current D&D character (I'm playing online with a few friends; we're using Roll20 and Discord to handle communications and other minutiae) is a baby high elf cleric with an… interesting… upbringing. Somehow, she's gotten in the habit of collecting organs from those NPCs silly enough to choose combat over discussion with our group1, so her best in-game friend (the rogue with several false identities who just had to steal from the banshee during that one session, don't ask, we survived, it's good enough) sent her this beautiful plush liver from IHeartGuts.
His name is Percy, and during our next D&D sessions he's going to roll for me. Maybe he'll have better luck with the strength checks than I do. I can hope, right? (Of course, who needs strength when your charisma's insanely high?)
The world is on fire, but I'm looking forward to having some fun with my group tonight. I hope you have something pleasant to take refuge in as well, dear Reader. If anything can save us, it's human connections–and it doesn't get much more human than playing games.
Have a lovely weekend.