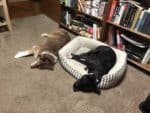 Nobody was setting off fireworks last night, and I was exhausted from the Mike's Deck Affair. (Suffice to say one of my neighbors was engaging in what sounded like demolition or incredibly enthusiastic home renovation and I lost half a tumbler of whiskey in the calla lilies, with bonus squirrel… look, maybe you just had to be there.) What I'm trying to say is that I actually slept, and so did the dogs. They are bright and bouncy this morning, while I am logy and wishing I could go back for another round of smothering the pillow with my face.
Instead, I have coffee, and the dogs need walking, and I should haul my carcass through a run. I'm sure by the end of the last I'll feel somewhat energized, and ready to tackle a full day's worth of work.
Or, you know, I'll simply be mildly exhausted and wanting a nap, but settling for tea instead and yanking words out one at a time as I chip at the coal face in my mind.
At least The Bloody Throne is proceeding apace. What I thought the book's shape would be turns out to be close but no cigar, as they say, which means frequent pauses to stop and feel my way in the dark. I know it ends in the same place and I know the major handholds, but that's somewhat like five different people trying to describe the elephant from constituent parts, as in the old tale.
The book keeping me alive right now is The Black God's Heart, where a flying seventies-era van just carried the protagonist over a lot of water and to a skyscraper to meet a particular sorcerer from folktale. (Aw, come on, lemme see you saucer, Bugs Bunny crows inside my head, and I'll have a hard time not putting that in the book, let me tell you.)
I can tell that someone's going to ask me to make parts of this book clearer, but I am not a writer who hand-holds much if at all. So I'm already anticipating the editorial give and take on this one will necessitate much self-searching–am I refusing to change something because I'm selfishly resistant to altering my word-baby, or do I really have a point? Finding that balance will be difficult, but at least I've been through the process enough that I can spot a hurdle or two ahead of time.
Apparently I'm going to be messily mixing and mangling metaphors today, too. If that's what a little sleep does to me I might as well stay awake.
…just kidding. I'm over forty and have had a lifetime of insomnia, I will always choose sleep. Whether or not I actually get it is another matter.
And with that, it's time to get out the door, for the weight of a canine stare upon my right shoulder is absolutely crushing. Boxnoggin is near the door, looking very much like an ancient Egyptian statue with his nose pointed at me and his ears all the way up. He is READY for a walk, thank you very much, and as soon as I hit "publish" and bend to tie my shoes he's going to be nose-deep in my shoelaces attempting to "help."
Heaven knows I need all the aid I can get today. See you around, dear Readers.