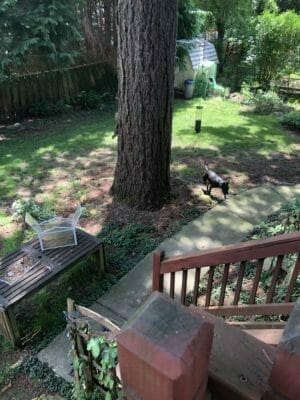 For a moment, I thought the squirrel had simply slid through a hole in the fabric of reality and vanished.
…maybe I should back up.
So, when last we spoke, Boxnoggin was hanging in midair, I was staggering backwards with a dog collar in my paw, and Travis was spinning rapidly on the bottom of the almost-horizontal YANKEE SQUIRREL FLIPPER DEATHRIDE 5000.
And then poor Travis did the only thing he could. Namely, he let go.
Boxnoggin landed with an oof several sizes too big for him, cushioned by soft turf. He even rolled on impact, since he'd been twisting in midair to get at the wildly spinning snack. I almost fell off the end of the sidewalk and onto the huge boulder just beside the hop vine, the boulder bedecked with what had been a very nice cuppa Earl Grey before I dropped said cup on my way down the bloody stairs.
And Travis… flew.
Now, during the original SQUIRREL DEATHRIDE 5000, another squirrel went flying to the right, and hit one of the garage windows. (You're probably not going to find that post since I did some cleanup around this-here website lately; however there is a backup and if I do another SquirrelTerror book, it'll be revivified JUST LIKE NEO.) That was back when Odd Trundles was alive, and I was, truth be told, dismally expecting something of the sort.
But I was wrong, my beloveds. For the YANKEE SQUIRREL FLIPPER DEATHRIDE 5000 is new, improved, and battery-powered. Which meant it was breaking new ground and, yes, flinging squirrels in an entirely new direction.
Namely, to the left, towards the back fence.
This meant Travis passed behind the Venerable, and for one mad moment I thought he'd outright vanished. Except–and this is a big exception–I could still hear him cussing.
"YOU FUCKIN LOOKIN AT MEEEEEEEEEEEEE?"
The cry trailed across the yard. Boxnoggin staggered upright while it was still echoing, and Travis must have hit the top of his arc behind the Venerable, for he was descending when he came into view again.
The problem was, of course, he was descending into the fence, with inimitable style but at very high (gravity-assisted) speed.
"OH NOOOOOO…" I yelled, as if by sheer volume I could halt the inevitable, or even postpone it.
Boxnoggin's own momentum had not been shed, so his claws dug furrows in the grass, and he finally came to a halt, defeat snatched from his victorious jaws. He had expected to land with a mouthful of squirrel, and was sorely puzzled that he did not seem to have achieved that benchmark.
"YOU FUCKIN LOOKIN AT FUCKIN–" And then, my darling reader, Travis hit.
Now, the fence is a relic. It's quite probably as old as I am, and held up by a hedge of oft-whispering cedars–except for the ones on the north end that our silly neighbor had taken out and hasn't replaced yet, though I keep hinting. (Yet I forgive that man a LOT because he wears a mask when his friends visit and insists they do the same while sitting six feet apart on his deck. You do you, Back Neighbor!)
Anyway, there was a thump far too big for the evident size of the arboreal rodent striking it at speed. But if there's anything we've learned about these squirrels, my friends, it's that they punch far above their weight class.
The fence shook and shuddered. I dropped the collar, which landed with a forlorn little jingle in a pool of tea. Boxnoggin, shaking his fool rectangular head, turned in a complete circle looking for his escaped friend. The YANKEE SQUIRREL FLIPPER DEATHRIDE 5000 did not fly off its hook and into the wild blue yonder, but rebounded (Physics was certainly earning her cookies on this one) and smacked the Venerable Fir a good one on the side. (Quality construction, my friends. Quality fuckin' construction.)
And Travis might have been all right, if he hadn't kept opening his damn mouth.
The squirrel clawed at the fence, leaving fresh gouges in weather-stained wood, and I can only think he was a little dizzy from his carnival ride because he didn't climb, as one would think he'd instinctively do. No, sir. Travis is not the type of squirrel to do the obvious, the safe, or even the reasonable thing.
No, he headed down.
Now, I can understand wanting some solid ground underfoot after all that. Honestly, in his position I'd probably stagger for somewhere reasonably level and commence vomiting just to put a capper on the whole experience. But I am decidedly not a squirrel, and who knows what was going through his tiny little mind?
He reached the lush violets between two large ferns and staggered, holding his wee head, and because he'd regained his breath he did exactly the worst thing he could–but honestly, who expected anything less?
"THAT'S RIGHT, YOU FUCKIN' FUCKS, YOU TALKIN TO ME? I'LL FUCKIN FUCK YO' SHIT UP, JUST FUCKIN' SEE IF I FUCKIN' DON'T, AND IMMA FUCKIN DO IT AGAIN!"
And, with unerring precision, Boxnoggin–though no doubt dizzy and breathless from his own vastly shorter carnival ride–turned in that direction, got his long legs under him, and launched himself afresh for the source of this new ruckus.
"FOR GODSAKE NOOOOOOOOO…" I screamed, and tried to throw myself in that direction too, having some hazy idea of maybe getting there first. But the table was in the way, and though I'm (relatively) fast over (very) short distances, I'd sadly used up my teleportation for the day.
So I barked my hip on the table and almost went down. Boxnoggin leapt after Travis like Pepe le Pew finally getting within range of a stripe-painted cat. And Travis?
Travis apparently had no clue what was heading for him. He was still busy holding his tiny squirrel head, and I am all but certain he defecated into the violets. At least, he crouched, still chittering obscenities conjugated into every part of speech, and I had visions of trying to pry a twitching squirrel corpse out of Boxnoggin's gleeful mouth.
But then Physics, who had viewed all this with a great deal of amusement, played her final trick upon us three tragical characters.
That's right. Boxnoggin must have still been too dizzy for proper aiming, because he launched himself for Travis…
…and missed.
Reader, he hit the fence instead.
That poor fucking fence.
"YOU FUCKING FUUUUUUUCK!" Travis screamed, and took off. He didn't bolt for the east side of the shed, where he could go along the wall and nip through the southern fence and reach safety. Nor did he take off northwards, where he could perhaps outrun the dog on level ground. Nor did he take the safest route and go diagonally up the back fence so he could vanish into the cedars.
No, sir, that would have been too simple.
Instead, the dumbass, breathless, probably still dizzy in his own right from his carnival ride squirrel took off vaguely north-by-northwestward.
Towards the Venerable, and the now-gently swaying YANKEE SQUIRREL FLIPPER DEATHRIDE 5000.
Whether he wanted a rematch or just couldn't get his shit together was academic, for Boxnoggin slid down the fence and landed in the violets Travis had just vacated, dimly aware his prey had escaped once again and rolling onto his side to see said prey scampering off.
Now it was a footrace.
Yes, the last one was penultimate, and this one the ultimate; there's only the falling action after today's climax to tell. So, to be continued–with a fresh photo–tomorrow. Take that, dramatic structure!