At least the fence is still standing. That's something, I suppose.
I promised you the conclusion to the tale of Boxnoggin, Travis, and the Venerable yesterday, didn't I. When we left our fair heroine (that would be me) she was attempting to teleport to said fence, though she had used up her one teleportation ticket for the day on attempting to grab her fool dog before he could launch himself for a spinning squirrel. Said fool dog had just shaken off the daze-effects of hitting the fence and was hauling himself, somewhat drunkenly but at a high rate of speed, after a spitting, cursing squirrel who sounded like a shaven-headed New Yawk cabbie.
So. One dizzy squirrel, making directly across the yard for the Venerable. One just as dizzy dog hard upon his heels. And then there was yours truly, my darlings, who had not only hit her hip on the table (gaining a quite magnificent bruise) but managed to get around the Venerable, which meant…
…which meant, O my beloveds, that I was in Travis's way.
I skidded to a stop, almost turning my ankle on a fallen fir cone. At least this once I was wearing shoes–a small mercy indeed, because I was in the path of a cussing squirrel and a dog-sized tornado.
This was, to put it mildly, not an optimal position. But I compensated for it by digging my heels in and clapping my hands over my ears. I have no idea why I did the last, unless the combination of Travis's torrent of obscenities and my own–what's that?
Oh yes, my dearest Reader. I was producing a fair amount of blue words on my own account. Travis has nothing on me when I get going; when provoked, I am capable of language that not only would make a sailor blush but would also drop my sainted grandmother into her grave twice over if that redoubtable lady was not already occupying hallowed ground. And my grandfather would be at once pleased and mildly chagrined, suspecting that I inherited the propensity for breathtaking obscenity from him. (He might even be right.)
ANYWAY. This is the conclusion, so I'd best be swift. Or swift-ish.
You know how, especially in sports or action movies, everything slows down–even the dialogue, which produces a weird distorted rumble–as disaster approaches? I stood a very real chance of being flattened not only by fleeing squirrel but by my own dear, dopey, absolutely determined dog. It occurred to me, in one of those crystal-clear thoughts that go through one's head during a disaster, that a squirrel looking for high ground might mistake me for a sapling and attempt to scale the redoubt, so to speak.
And Travis… well.
Travis bulleted past, and I am telling the bare honest truth: his tail brushed my throbbing, almost-turned ankle because he was still zigzagging somewhat.
I stopped cussing to scream like a cartoon elephant upon discovering a mouse on the floor.
Boxnoggin, on the other hand, was not so lucky. He clipped me hard on the shin as he went past, and I almost went down. Perhaps it was Physics's final blessing that I deflected him a fraction from his course, or he might well have gained himself a squirrel snack.
But Travis had reached the Venerable, which seemed singularly unmoved by events. (It's very phlegmatic, even for a tree.) I mean, the Venerable had witnessed the approaching disaster, been hit by the YANKEE SQUIRREL FLIPPER DEATHRIDE 5000, and furthermore–being firmly rooted–could do absolutely nothing to dodge any further trouble, hijinks, or shenanigans.
That poor tree. Odd Trundles used to headbutt it all the time, too. I keep thinking I'll wake up one morning to find out it has, with a supreme effort, moved a foot or so in any direction to try to avoid one of those long-ago disasters.
Anyway, I am… pleased? Is that that word? I suppose it must do. I am pleased to report Travis reached his goal and climbed up the Venerable like a pole dancer determined to gain a championship trophy in the district finals. I am somewhat less pleased (again, I suppose that will have to be the word) to report that poor Boxnoggin forgot himself for a moment and tried to go up the trunk right after him, fell back on his ass, and let out a "yipe!" that shook me to my core.
Don't worry, he's fine. Only his pride (such as it is) was lightly damaged.
I expected Travis to hang safely out of leaping distance and treat us both to a torrent of abuse, but apparently he had suddenly remembered he had other places to be, for he went up the trunk without stopping and vanished in the Venerable's canopy. And that, my dears, is pretty much the end–I won't trouble you with a catalog of bruises or bumps suffered by the human involved in this small tale.
Except it's Friday, which means there must be a Friday photo. And there is one more small thing to report.
Normally Boxnoggin is not a dog much troubled by memory. (He occasionally forgets how to go up stairs and must be patiently re-taught.) But that afternoon made a deep impression upon him, so much so that when he's let out now, he attends to whatever pressing business, bladder or bowel, that needs doing and heads unerringly for a spot just to the south of the Venerable, where he throws himself down and stares…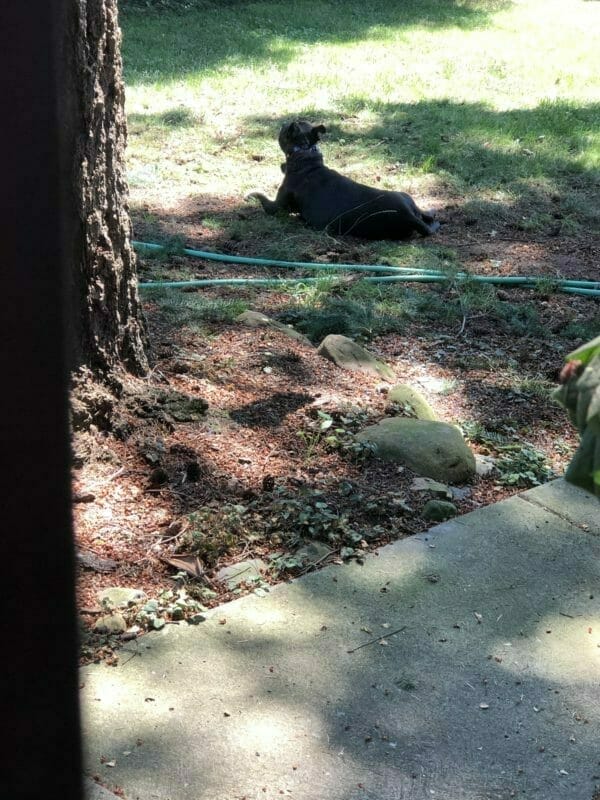 …he stares, as I said, longingly at the back fence, and makes a throaty little sound. It's the same sound he makes when he wishes to pursue a cat, rabbit, or any other small creature. And if you listen closely, you can hear what he's saying.
"Come back," he moans. "Come back and play with me, forever and ever and ever…"
And every once in a while, just to be sure, he cranes his neck to the left, examines the Venerable, and makes certain to check the hanging bird feeder.
Just in case.
---
The End
---
…until some-damn-thing-else happens, of course.