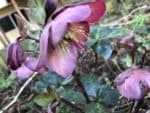 It's another lovely grey morning; the garden is settling to its work wonderfully. The dogs have been fed, though Boxnoggin has turned his nose up at the offering. When he first arrived, dry kibble–let alone mixed with wet food–was pure manna from heaven to be scarfed as soon as possible. Now, after a few years of regular twice-daily feedings, not to mention treats, he is possessed of an epicure's disdain.
I don't mind. He's sleek and glossy, obviously in no nutritional distress, and if he feels secure enough to leave his bowl lonely every few days it's a sign that he knows more is always available. I consider his snooty little sideways this is inadequate, Mother glance a victory.
Another victory? He's taken to occasionally sleeping on his back, all four paws in the air, propped against me or handy pillows on the bed at night. Miss B, of course, has her traditional place on the bed, and hops down a few times nightly to sprawl on the coolness of the loo's tile floor. But Boxnoggin chooses a spot and stays there all night, occasionally shifting in place to expose his belly to the breeze. It's especially fun when he begins dreaming.
---
The protests continue. The work of boosting other voices, encouraging anyone who listens to my rambling to do so, and of listening continues. Hope is creeping into my soul, though I am trying to bar the door. I can't take the agony if it proves vain.
And honestly, I think it will prove vain, between the overwhelming violence regressives will unleash, the exhaustion of those on the streets who are at great risk of being felled by pandemic if they aren't brutalized into silence by militarized police, and the complicity of Democrat power-brokers who think a few "reforms" will silence the howling and consider Republicans their coworkers and coevals owed more consideration than their constituents.
I'd say "vote them out" but who honestly thinks we're going to have a free, fair election in November? If you do, I admire your optimism but see absolutely no grounds for it.
Last night I told the Princess, "It has always been like this. The difference is nowadays we have the cell phone videos to lift the rock and see what's squirming underneath." Sunshine is indeed the best disinfectant, showing the reality of the racist police state, and the mass unemployment caused in no small part by an absolutely criminally fumbled response to a global pandemic is a factor that may well prove decisive–the shitty jobs available to most of us, leaving us too tired, isolated, and afraid to protest or organize, no longer exist; so there's time, energy, and the burning need to be in the streets.
I see America trembling upon a knife-edge, not between revolution and the status quo, but between vast violent repression by the dictator still squatting in the White House (remember on June 1 when he attempted to declare martial law? The military still hasn't decided which side it's on, and I keep highlighting this because it's important) and co-optation of the protests by a few pseudo-liberal careerists who think a sop or two will return things to "normal." You can see the latter in the mealy-mouth utterances of people who fancy themselves Serious and Bipartisan, tsk-tsking at the demand to defund the police.
"You should say reform instead," they bleat.
"Reform" isn't quite a dirty word yet, but when it's used after every explosion of quite understandable anger by the people on whose scarred, bleeding backs America is built to give the illusion of progress that's promptly forgotten once everyone is back at their shitty jobs full of wage theft, it's understandably fast becoming so.
---
I must write these stories, or we don't eat. If the economy collapses further, or if the dictator and his cabal win, it won't matter. In the first place, I'll be so busy trying to keep us fed and housed I won't have time to think; in the second, they'll come for me sooner or later. Privilege will insulate me, but only to a point.
In the meantime, I have to survive, keep my kids fed, keep the dogs in kibble. Focusing enough to work with that uncertainty hanging overhead is a terrifying daily effort. I can barely imagine–or maybe I can't imagine at all–what it's like for those with less luck and privilege than my own sweet self.
Oh, hope creeps in when I least expect it, when I hug one of my children or when Boxnoggin is asleep, trusting and belly-exposed, on my blankets. Who am I kidding? Dum spiro, spero, and all that. Hope is part of the human condition. It is unbearable, yet it must be borne. Just like life itself.
I don't want to hope. I'm tired and I want to be unsurprised, I want to never again feel that sick thump of disappointment and fear when a disaster I saw coming (and my shouted warnings of were ignored) finally arrives.
The garden–and the dogs–have no idea of our precarious situation. The dogs only know Mum's upset, of course, and they try to soothe.
I try to let them. And I don't want to hope, but I suppose I must try to. As Toki says in Princess Mononoke, "We're not dead yet, Kuroku, we'll manage somehow."
Gods grant it be so.