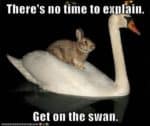 The weekend was an endurance contest, and I think I won. Barely, but any victory is worth celebrating, no matter how small.
Now it's a cloudy morning, and I have the Gipsy Kings strumming in my head. Usually that means I'll be dancing all day, but serious movement will have to wait until I've absorbed some caffeine and walked the dogs.
They're saying we'll get up to 80F later this week. Summertime, and the living is sweaty. I like winter better; you can always put another layer on or burrow under covers, but taking off your own skin once the prickles of heat rash starts is an entirely different prospect. It reminds me of the Shel Silverstein poem where the kid even takes his muscles off, sitting there as a skeleton, and is still hot.
Today is the very last Haggard Feathers post. I'm really upset at having to let that experiment go. I feel like I've let readers down by not being completely bulletproof and able to swallow gallons of the current agony without choking, but maybe at some point I'll be able to go back to it.
Just… not for a long while.
On the bright side, I go back to work today. There are line edits (thankfully light) on Finder's Watcher, which will probably be published as Finder. Of course you guys will be the first to know; I'm looking forward to the cover reveal, not to mention preorder information. And there's a particularly knotty scene in The Bloody Throne I've been thinking of for three days, as well as a scene in HOOD's Season Three–Yung Gamweil and Vili Rouje in a cave, talking about whatever crosses their minds–that needs finishing.
I'm not working as quickly as I used to before the pandemic hit, but maybe scoping in a bit and cutting off some experiments (though it pains me to do so) will give me enough energy to get back onto the track for other things.
It's worth a shot, at least.
Be gentle with yourselves today, dear Reader. I know I say that a lot, but it bears repeating. The world attempts to flog us enough, we don't have to cooperate or add to it. I'm terrible at taking my own advice, too. So telling you helps remind me.
And with that, I'm off and flying low. Every victory celebrated, but also a stepping stone.
Over and out.