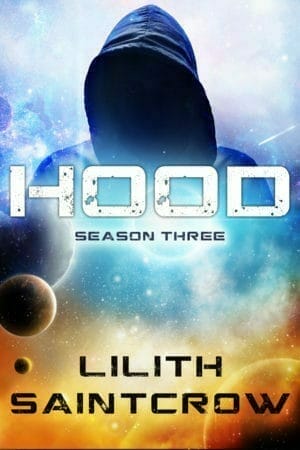 I'm excited today, my friends. Not just because I have a very good cup of coffee to start the day1 and not just because I'm working on three paying projects (hallelujah) at once, but also because today marks the first day of HOOD's Season Three!
Every single one of my subscribers–Gumroad or Patreon, Latte's Worth to Nest Egg–will get the first two chapters today at around 2pm PST. I love writing serials; they're good practice, and I really like having something new for subscribers every week.
Also, the regular monthly support, no matter how small, is a rock to cling to in an unsteady career. It allows me to write much longer, more complex stories without a lot of interference, which is always nice.
This particular serial started while I was still writing Roadtrip Z and looking for the story that would come after Ginny, Lee, and the gang reached the end of their journey. I've always been fascinated with Robin Hood retellings, but I didn't want to write even more historical-flavored fantasy. So I was watching fanvids of Richard Armitage as Guy of Gisbourne, and all of a sudden it hit me…
…well, a lot of things hit me when I watch Richard Armitage, but this particular time I thought "what if Robin Hood was coming home from a space war? The society would have to have a semi-feudal structure, how would that work?"
Of course current events inform plenty of my work, and a discerning Reader will see the threads, as well as the terminology2 for certain things carried from Old Terra to Anglene. Some things have happened that I didn't expect–Giz's true aims were a mystery to me until halfway through Season Two, the exact dimensions of Robb's athleticism and gifts continues to surprise me, and Alladal has become much sharper-edged than I thought. Which is good–her handling of Wat the Tinker gave me flat-out chills.
Anyway, even with all this excitement, there are dogs to walk and wordcount to get in today. I'm feeling how I usually do when working on the last book of a series–anticipation with a sharp edge of fear, just enough for seasoning. I'm always afraid of dropping one of the narrative threads while braiding everything in. And there's a whole lot of moving parts in this one, from Alladal's decisions to help (or not) to Giz's body count (I suspect it will grow steadily) to Robb hitting bottom (or so he thinks) to Jorah Smahl's critical part in the plan to spring Robb from jail (not to mention his part in the return of a certain prince) to what, exactly, Marah will risk for what she thinks is right (in a word, everything). And that's not even counting Will and Kameny's relationship (such as it is), Sharl Notheim's plans (mostly to cover his own backside, as usual with such men) and the little question of Gil Blamaíne.
I'll get it done the same way everything else gets done, I know. Tiny bites, well chewed, like the Shel Silverstein poem about eating the whale. And I'm super glad to have my subscribers along for the ride.
Now it's back to work.