That's right, friends and neighbors! HOOD's Season Two is now live in the wild!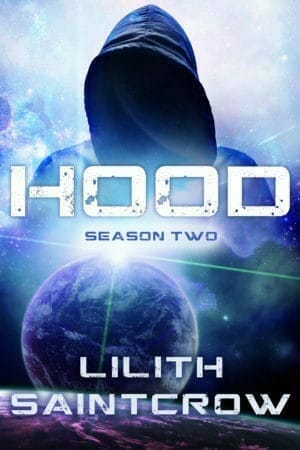 HOOD: Season Two
All of Sharud is singing about a man in a hood. He could be a hero–if he wasn't so determined to destroy himself. Robb Locke is doing his best to hit bottom, and even his childhood friends Ged Gizabón and Marah Madán can't help.
Explosions, riots, political unrest, assassination, and the threat of starvation are still swirling through the entire system. And now the Parl Regent Jun Planetagen's flagship has entered orbit for the First Harvest Fête. Jun has plans of his own, especially for Marah–and those plans are murderous indeed.
The war is over, but "peace" is always a relative term…
Season Two now available direct, or at Amazon, Barnes & Noble, and independent bookstores.
I like calling my serials "seasons" because they're structured as smaller arcs within the overarching arc of the whole story; we're well into Season Three now and subscribers get weekly chapters fresh out of my brain as well as the unedited and edited ebooks–the latter, indeed, before the book goes on sale anywhere.
I've talked a little bit about the genesis of this series, and there's also a soundtrack over on Spotify. A huge helping of thanks is due my beloved subscribers, since I wouldn't be able to tell these vast, sprawling, interconnected stories without them. You guys are the best.
Now, since it's a release day, I'm going to go hide my head in a bucket. It's traditional, after all. And the hyperventilating makes it sound like the seashore. It'll be almost like a vacation!
Almost.