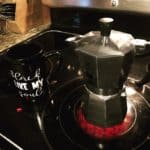 I've taken to sprinkling a little rooibos chai powder into my morning coffee. The spice helps me feel a little more awake; the only problem is there's no added caffeine.
Ah well. Nothing is ever completely perfect.
We're having lovely weather. Sometimes in spring we'll get a spate of 70F days, with pollen drifting golden in the air, and it's so beautiful one almost manages to overlook the fact that it's treegasms floating everywhere. As a result, people are taking walks up and down the street all day, which sends Boxnoggin into a frenzy of "DON'T COME INTO MY YARD, HOW DARE YOU WALK ON MY STREET, HOW DARE" several times a day.
He's very protective, this box-headed van der Sploot.
I haven't fully recovered from last month's bug, whatever it was. If it was the current plague, we're likely immune, but there's no way to know without tests and there are no tests to be had. So I guess I just… wait, and worry. And try to get rid of some of the mucus.
There are good things about quarantine, though. I've found some new writing music; today I'm trying out this recipe. It's hard to work unless I shut off the wireless entirely; the temptation to look at what's happening in the world and feel that sick thump of worry and pain in my midsection is overwhelming.
It's not that I want to slow down and Lookie-Lou at the car wreck. It's that I want to help, and my inability to immediately fix this for everyone I love–or indeed, anyone at all–is a torment. Everything I see on the news makes me long to do something, anything to help.
I know I help most by staying home, by being careful, by loving the people I'm close to and taking care of my neighbors. But still… I wish I could do more.
Anyway, there's subscription fiction drops to get out the door today and the open thread over on Haggard Feathers to attend to. Plus I should brush the detritus of shipping off my new African violets. (They were on clearance; I've got to get my scrawny, overlooked plants somehow.) I gave them yesterday to settle in their new homes and get a drink, now we clean them up a bit so they can breathe more easily. Growing medium tends to shift a little during transit.
But first there's the dogs to walk–without having to take care of them, I don't think I'd be able to get up in the morning and face all this–and my rooibos-chai-laced coffee to finish swilling. I've managed two days' worth of productivity, but I'm not feeling quite back in the saddle yet. I'm feeling, in fact, like I'm on the back of some raging beast who very much wants to shake me off, and is doing its level best.
I had more to say, but I suppose it's probably a mercy every subject has fled my head.
It's getting hard to hold on, over here, and a little more difficult to get out of bed each day. How are you managing it, dear Reader?