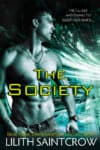 Walking the dogs this morning, Matchbox 20's Disease came through my earbuds, and I found myself thinking of The Society again. That was one of Delgado's songs.
Man, I was so young when I wrote that. A few discerning fans had fun untangling the X-Men references in it, and I still like to think about Rowan and Del every once in a while. I didn't extend the series because if I had, a character I like very much would have had to die, and I don't want to feel it in my own body.
Best just to leave things precariously balanced where Hunter, Healer left off.
I do know what happens after all my books end. Sometimes I keep the information locked up in my head, a private playground. Other times I turn the situation a certain number of degrees and look at its contours, and another story tentatively pokes its head out, whispering have you considered it this way? Write about this.
Then Florence + the Machine's Breath of Life came up, and I found myself thinking about The Black God's Heart; I think that song is probably Nat's. You haven't met Nat yet; I haven't written the book. But I've made a good start and I'm stealing time to work on it in the evenings, when I'm tired from the day and needing something I enjoy, not just a slog.
You can tell I'm serious about a book when the soundtrack starts to coalesce. It's only a single indicator–I've written other books without soundtracks, just not very often. I do have just-plain-writing music, but certain songs help me slither into a character's skin.
Writing is an exercise in focused, critical empathy. Imagining myself so deeply and profoundly in someone else's shoes is on the one hand difficult, requiring imagination and stamina; on the other hand, it's the easiest thing in the world because, well, empathy. It's a normal human skill, most often shown in the flinch when we see someone else get a sharp pain.
I know there are plenty of empathy-challenged people. I also think even a grain of it can be strengthened with practice and care. Writers, of course, can gain a massive, overblown sensitivity.
It's no wonder so many of us drink to deaden it. The cray that is publishing doesn't help either, I suppose.
Music isn't an absolute necessity; some books do very well with silence or some variant of white noise. (I also use the Noizio app sometimes, when I want a little sound but not tunes.) I find songs are most helpful when I'm, building a book–walking or doing housework while the subconscious engines work on arranging the story for me.
Writing isn't solely about the typing, although that is an extremely necessary part. It also takes a lot of relaxed focus, letting the machinery below conscious floorboards grind away with enough fuel and grist to keep from overheating.
Anyway, the world is afire with greed and plague, but I'm still writing. There's not much else I can do, and people need stories now more than ever.
Time to get back to work.
---
It's Thursday, which means my paid Haggard Feathers subscribers have an open thread to ask questions and give comments on. Also, Crow's Nest, Nest Egg, and Serial Time subscribers are about to get some very cool stuff in their inboxes this week…