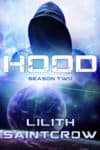 Well. It's March, it's a Monday. There is a pea-soup fog; even the cedars across the back yard are hazy and indistinct. I meant to get up early and start my spring-forward on the right foot, but… the dogs were heavy, I was dreaming about a glass labyrinth, and the enormity of a few professional steps I've taken lately has come crashing down.
I have to write an agent query letter. I have never had to write an agent query letter, so this should be fun. (Yes, there are a lot of things in publishing I don't know about. Always learning is the name of the game.)
This week, Serial Time and Nest Egg subscribers get the unedited ebook of HOOD's Season Two, and next week they get the edited one–well before it goes on sale anywhere, I might add, though I do need to update the buy links on the book page. I'm hard at work on Season Three, where all the characters come together–the double-crosses are revealed, Ged Gizabón commits murder, Robb Locke commits even more, Parl Jun makes his bid for absolute power, Marah decides to hell with deportment and responsibility because all of Anglene needs to be saved, Bookman Trick finds out he's not a coward after all, and Alladal finally gets a few things she wants.
Sounds like a lot, doesn't it? And then there's breaking an embargo, a deadly speeder chase, not one but two jailbreaks, and a whole lot else planned.
I mean, I knew writing Robin Hood IN SPACE was going to be fun, but I didn't know it would be this fun. I'm eyeing what I have to pull off and rubbing my hands together with glee.
There's also a podcast I want to listen to, which doesn't happen often. I should have cued it up yesterday while I was doing housework, but I was busily dancing to the book soundtrack for The Calling Knife. (That's what the trunk novel is calling itself now.)
So the work schedule looks like: HOOD's Season Three, The Bloody Throne (third and final Hostage book), The Black God's Heart (which is American Gods meets John Wick meets Conan the Destroyer), and The Highlands War (which is the last Steelflower book for a while; I probably won't write her and D'ri's return to G'maihallan). And there's revisions on Finder's Watcher to get done, as well as line edits on The Poison Prince–that's book two of Hostage to Empire. Plus Sons of Ymre and Damage both need another draft, since both are somewhere between zero and first draft status.
I also need to write that damn query letter, and it would be super great if I could also make The Calling Knife leave me alone for a little while. Basically I'm running in circles screaming with my hair afire, but you know I prefer too much work to too little, indeed. And some gardening this month wouldn't be amiss either.
Right now, though, I should focus on finishing my coffee and getting the dogs walked. The rest of it will happen in due time. Breaking tasks into bite-size pieces is the name of adulthood's game, and I've had all the rest I'm allowed–or want.
Plus, I've got this machete handy. Monday had better behave, and March had better straighten up.
*wanders away muttering, slurping at coffee*