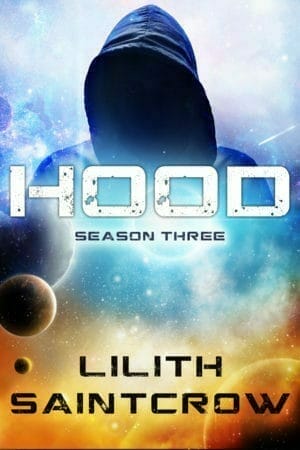 So things are very strange right now–not to mention terrifying–but I can't slow down work at all. Mostly, the idea that I might still be alive when "all this" is over means I have to plan for the eventuality, which means everyone in the house will still need me functioning and providing.
On the bright side, that means I'm working on Season Three of HOOD, which starts going out to subscribers this Thursday. I only have a few scenes loaded into the cannon for this season, despite knowing everything that happens and roughly where all the moving parts go. (When I say "only a few" I mean "only a month or two ahead of my readers", so it's not quite as bad as it sounds.)
My "sure, I'll only work on one project at a time this year!" expired in March–somewhat of a record for such resolutions–and a few things in my professional life have changed very quickly over the past few weeks. So my production schedule has received rather a shattering knock, but in the right direction–I now have three paying projects to work on at once, an embarrassment of riches.
So it's HOOD's Season Three, book three of Hostage to Empire, and The Black God's Heart splitting my time now. Weekends I'm going to reserve for writing whatever the hell I want, which last time around was Moon Knight and next weekend will probably be The Calling Knife if I can figure out what happens when Amon of the Desert appears before the reunited lovers.
If you're confused, don't worry–it's natural around here. I have so many stories boiling in my head that even I get mixed up and turned around sometimes.
Anyway, I'm excited for HOOD's Season Three to begin this week. I have so much planned for my dear subscribers, and of course Season Two is available for preorder and goes live April 14.
You know me–I'm happier with a surfeit of work than with the reverse. I feel mind-numbingly guilty that I'm having good luck when the rest of the world is suffering so badly. It makes me long to work myself until I drop just to make up for it, though that's hardly healthy.
There's also the dogs to walk and bread to bake, so I'd best get started. I like to have at least six months' work put aside for the current serial; a mere month is nothing. I suppose I'd best get Robb out of jail, Giz further involved with Parl Jun's plans, Marah even more determined to make some trouble, and Alladal doing what she loves most next to singing–planning mischief. (And that's just in one book–for Hostage I need Yala married, Takshin briefly happy, Kai heartbroken and savage on a battlefield, Daoyan dragged back to Khir, the Tabrak sending more messengers, and Kiron of Shan having a very bad day.)
But at least I don't have to do it all at once. I can break it up in little bites, and as long as I just concentrate on the next bite, and the next, I won't worry so much about the rest of the world.
At least, that's the plan.
---
I'm treating this week and the next as the first week in April, which means those Haggard Feathers posts will be free. We'll be finishing up our marketing month; April will be all about self-care for the working writer.
We could all use it, frankly.